March 11, 2019 - by: Junkman
Erotic fiction inspired by Adel Morel, Alice Shea and Michelle H in "Playing Footsies 2"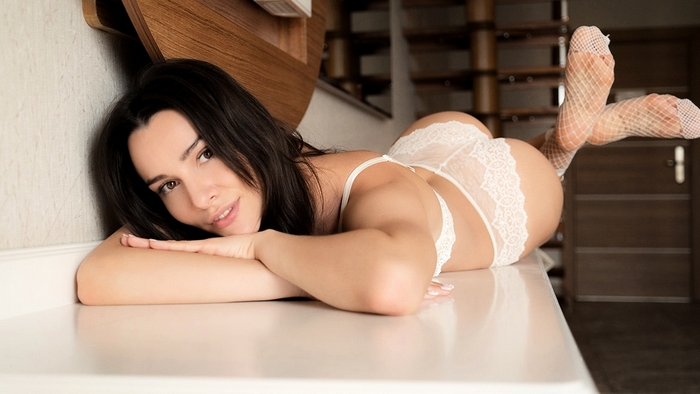 No topic had Adel lost in thought more than the mystery of the orgasm. She was wondering if the rush of an orgasm – similar to the speed of light – actually slowed down time, when she was interrupted by a kick in the shin.
"Earth to Adel," said Alice.
"It's time for the wine," said Michelle. "Scoot, scoot."
Michelle and Alice were Adel's back pew friends. The had become close over time, sitting within earshot of each other during prayers. In whispers, they learned they had common confessions, ranging from envy of earthly pleasures like high heels to lusting for kinky indulgences.
Coffee hour always made them restless and bored. "We're in these cute little dresses," said Alice. "We can't just go home."
Michelle had one more day housesitting for a wealthy couple, and she figured her friends could help her make the most of the high life. She still hadn't seen half the rooms in the place, but she knew where to find the stereo, streaming her favorite jazz throughout the house.
"You have to see the master suite," said Michelle.
Their heels echoed as they walked up the marble staircase into a large bedroom. There was a tall table under the TV that could have served as an altar. It was sturdy enough for all of them to sit on. Michelle took her heels off and put on some fishnet socks.
"The missus has some crazy shit in her drawers," she said. "And she buys everything in bulk!"
Michelle had matching pairs of socks for her girlfriends. Alice took off her shoes and put them on and Adel followed suit. They sat in silence with their fishnets entangled in a game of footsies.
"Who's going first?" asked Michelle.
"First?" said Adel.
Michelle and Alice laughed at her. "You're it!" said Alice.
Michelle and Alice got off the table and sprawled out on the bed looking like they were getting ready to watch a show.
"What?" said Adel.
"You're always telling us that in a holy place we should be naked and without shame," said Alice.
"And cumming," said Michelle.
"So show us!" said Alice.
Adel smiled and let the tension fall out from underneath her shoulders. It made her feel good to be among like-minded friends. Their sinful stares sent a tingling sensation pulsing through her veins, which she tried to follow with open palms that she moved over her body.
Adel lifted her short red dress over her head as she watched her friends' hands disappear under their dresses.
Adel was beautiful. Her brown hair fell lazily around her elegant face. She was graceful, with a style that harkened back to more traditional times. Her lace bra and panties were see-through over the sensitive pink parts – those rock-hard nipples and her plump pussy. She stretched out her long legs and gave herself a foot rub through the fishnet socks.
"Come on, baby," said Michelle.
Adel lay back slowly – the table was cold against her shoulders – and slipped off her underwear. She spread her legs wide, showing Michelle and Alice her bush-barren pussy. She wasted no time showing off her glittering nails, which shimmered as she strummed over her wet folds.
"Fuck," said Adel, clasping at her neck and sucking on a finger.
Alice and Michelle kept their dresses on but they were touching themselves at the same pace through their underwear. It was a mystical experience for Adel. She felt as if their hands were touching her. The sensation of millions of fingers made her feet tense up. The tingling went all the way up her spine and down to her hands.
When she came, Adel swore her soul became material. But whenever she tried to embrace it, it seemed to flee from her. There was no containing it. The only thing she could do was bring it back.
Adel took off her bra, proudly displaying her perky little breasts. She sat up on the edge of the table, lifting up her ass so she could massage it with the dense part of her palm as she masturbated. She wanted to go deeper, loosening her pussy with a finger until… time stopped again. Her soul remerged and enwrapped her.
It took a little while to recover. Her friends were still dressed and slowly playing with themselves.
"Who's next?" said Adel.
We're not long to the world. Treat every orgasm like it could be your last.
About the author: The Junkman is a contributing writer for the MetArt Network, blending his twin passions for erotic storytelling and high-class porn. He shares a range of musings at JunkPixels.com
If you enjoy erotic fiction and would like to contribute some of your own, you can email it to fanfiction@metart.com. We don't promise to post it in full, but we will pick out the juiciest bits to share! To see more stories and true confessions, check out our free fiction site, MyErotica.com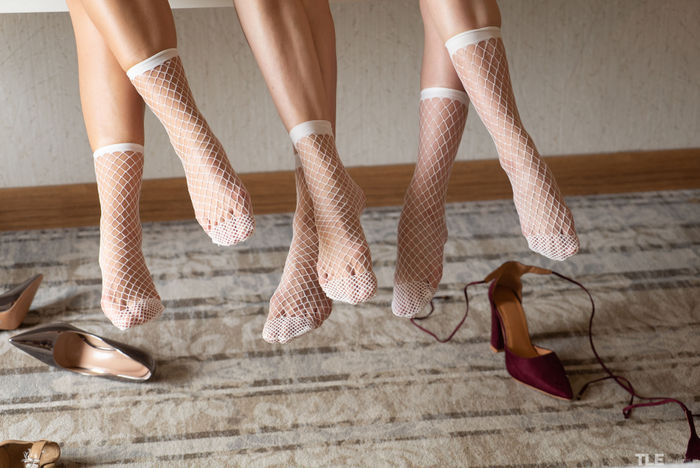 Latest Comments
There are no recent comments
18 U.S.C. 2257 Record-Keeping Requirements Compliance Statement
Warning - This site contains adult material of a sexual nature - you must be of legal age in your area to view this material.
All materials on thelifeerotic.com, are copyright © 2019 thelifeerotic.com. All models were at least 18 years of age when photographed.
0.11.7