February 11, 2019 - by: Rose
Erotic fiction inspired by Lee Anne in "Spank 2"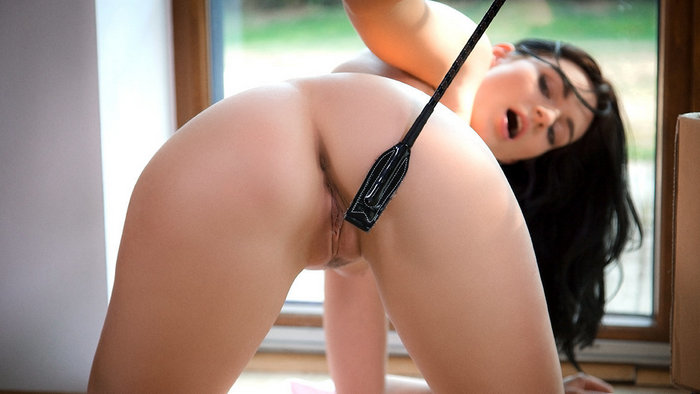 Is it really a punishment if the person being spanked enjoys it as much as the one disciplining them? How about if it's… the same person? When Lee Anne finds her forgotten riding crop, she knows she must have done something bad enough to merit chastisement, even if she can't quite recall what it was.
Tapping the leather crop against her palm stings just enough to give her a horny thrill. Without hesitation, she obeys the impulse to smack it against the sensitive flesh of her inner thigh – where it hurts much more, and gives her much more pleasure, too. Her pussy is throbbing insistently, demanding attention, and she grinds the end of the crop against her panty crotch, feeding her excitement.
A pinch to each of her nipples as she undresses sends sparks of arousal darting to her core, and now she can't resist fulfilling the urge that's been calling to her all along, undeniable in its erotic power. On her knees, she spanks her ass cheeks full force, feeling the flesh redden and burn, heat flaring through her.
The sound of each slap turns her on as much as the sensation of mingled pleasure and pain, until with an urgency she can't contain, she tosses the crop aside and rubs her drenched slot, fingers plunging deeper and deeper. Her pussy needs punishment, and she spanks it harshly, triggering an orgasm that she intensifies with her rapid fingering, prolonging the shivers until she's utterly satiated. But somehow, she knows it won't be long before she needs to be disciplined again…
If you enjoy erotic fiction and would like to contribute some of your own, you can email it to fanfiction@metart.com. We don't promise to post it in full, but we will pick out the juiciest bits to share! To see more stories and true confessions, check out our free fiction site, MyErotica.com
Latest Comments
There are no recent comments
18 U.S.C. 2257 Record-Keeping Requirements Compliance Statement
Warning - This site contains adult material of a sexual nature - you must be of legal age in your area to view this material.
All materials on thelifeerotic.com, are copyright © 2019 thelifeerotic.com. All models were at least 18 years of age when photographed.
0.11.7