January 23, 2019 - by: Rose
Erotic fiction inspired by Lady Dee in "Hot Iron 2"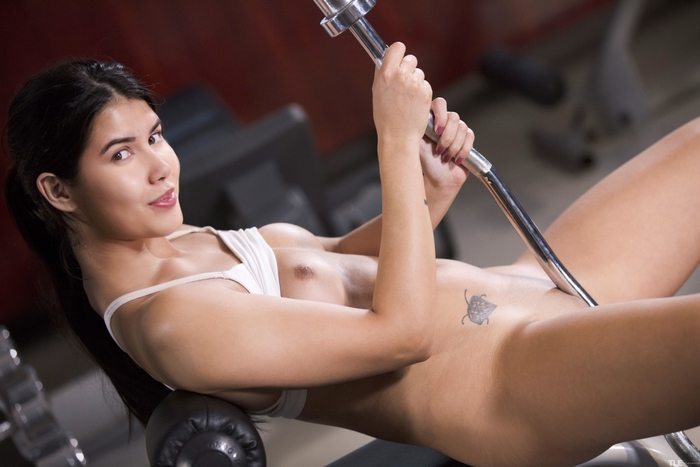 It takes work – and good genes – to achieve a physique as impressive as this. But that's not why Dee spends so many hours at the gym. No, the cute brunette likes to work out because she enjoys the horny buzz it gives her. Energy and adrenaline flooding her body, she feels an orgasm is the perfect climax to every training session.
Usually Dee waits until she gets home before she gives in to the urge to touch herself. But this afternoon there's nobody else in the weights room, and as she rubs her overheated crotch against the cool metal of one of the weight stack bars, it feels so good. Breathing heavily, she grinds on the pole, tweaking her nipples, thrusting a hand into her skintight gym shorts to feel how wet she's getting. She glances around, checks there's nobody to see, as she tugs the shorts down just far enough that she can feel the metal against her bare pussy, her clit throbbing as it makes contact with the cold, hard surface. She can't stop now; craving more, she pulls her shorts right off and presses her fingers against her soaked slit, strumming her clit, shivering with arousal.
She grabs a bar and lies back on one of the weights benches, sliding her pussy up and down so her plump lips wrap around the bar, smearing it with her cream. Soon the shiny surface is streaked with wetness as her juicy pink folds mash against it. Desperate for penetration, she finds a short bar with a rounded end, and places it against the drenched entrance to her pussy. It slides in easily, the perfect size to fill her slippery groove, so smooth and hard.
She works the cock-substitute in and out with fast, fierce strokes, her fingers a blur on her clit, dimly aware through the haze of her horniness that she could get caught at any moment. Thighs flexing, abs tensing, she rocks up to meet each stroke as she fucks herself furiously, until like a dam bursting, her orgasm engulfs her. It's only as the waves subside and she grabs her shorts to wipe the creamy residue off the bar that she remembers the CCTV camera in the corner…
If you enjoy erotic fiction and would like to contribute some of your own, you can email it to fanfiction@metart.com. We don't promise to post it in full, but we will pick out the juiciest bits to share! To see more stories and true confessions, check out our free fiction site, MyErotica.com
Latest Comments
There are no recent comments
18 U.S.C. 2257 Record-Keeping Requirements Compliance Statement
Warning - This site contains adult material of a sexual nature - you must be of legal age in your area to view this material.
All materials on thelifeerotic.com, are copyright © 2019 thelifeerotic.com. All models were at least 18 years of age when photographed.
0.11.7