January 15, 2019 - by: Rose
Erotic fiction inspired by Elza A in "Stress Relieved 2"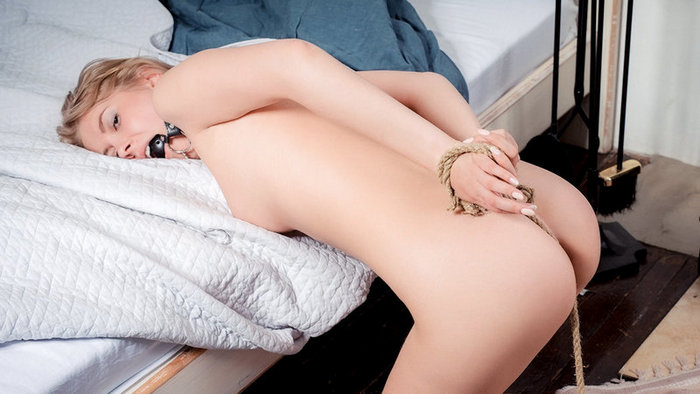 Elza has her own way of relieving stress. She finds that the tighter she's bound, the more her mind can wander free. That's why at the end of a long week, she's hog-tied on the bed, a ball-gag in her mouth. Part of the game is to pretend she's a captive, helpless, even though deep down she knows her lover has left her restrained loosely enough that she can escape if she wants to.
Struggling, she releases her wrists from their bonds, finding herself flooded with adrenaline and arousal. She unties her ankles, spreading her thighs apart at last, stretching and uncramping them. Her fingers slide into her slick pussy like a knife through butter. She thrusts them in and out rapidly, imagining she must hurry, before her captor returns and catches her in the act. Really, she should get away now, but she's so unbearably horny she can't even think about leaving before she makes herself cum.
Gasping with excitement as the intense sensations sweep through her body, she diddles her clit with the palm of one hand, as the fingers of the other plunge into her soaked slot. She turns onto her knees, picturing her jailer returning, too late for her to stop now. Would he pin her down on the bed, she wonders, and shove his hard cock into her from behind, pulling her hair as he power-fucks her, making her beg him to stop… making her beg him to never stop?
Her fingers move faster, deeper; and suddenly she's cumming, her pussy shuddering around her fingers, sweet release jolting through her. She sighs, stretching out on the bed – and that's when she hears the sound of the door opening…
If you enjoy erotic fiction and would like to contribute some of your own, you can email it to fanfiction@metart.com. We don't promise to post it in full, but we will pick out the juiciest bits to share! To see more stories and true confessions, check out our free fiction site, MyErotica.com
Latest Comments
There are no recent comments
18 U.S.C. 2257 Record-Keeping Requirements Compliance Statement
Warning - This site contains adult material of a sexual nature - you must be of legal age in your area to view this material.
All materials on thelifeerotic.com, are copyright © 2019 thelifeerotic.com. All models were at least 18 years of age when photographed.
0.11.7