January 08, 2019 - by: Junkman
Erotic fiction inspired by Kate Fresh in "Wet Break 2"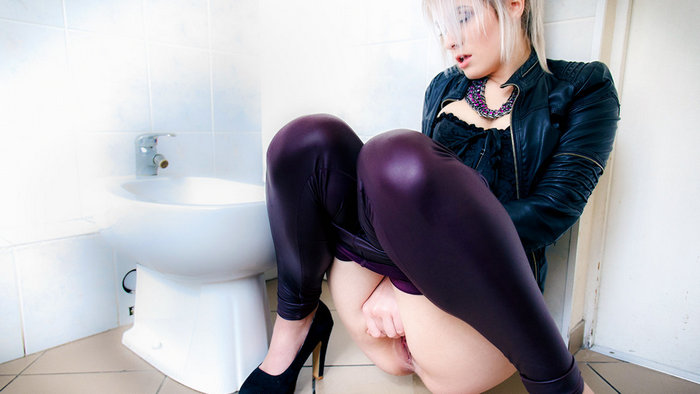 The road can be unforgiving to the horny traveler. Landscapes repeat themselves. The mind wanders. Sensitive skin swells and wets with anticipation. Yet the body has no recourse.
On Highway 1, Kate spots a shelter of hope. It's a cute little restaurant that looks loved and cared for judging from the cute garden in front. The bathroom is tidy enough. It's even got a bidet.
Kate secures the door. In her leather jacket and wet-look leggings, she's dressed like a biker, but the heels give her away. Her bangs, bleached white-blonde, hang over her wanting eyes. Her breasts appear ready to burst out of her tank top corset if not for the pretty little bow hanging atop her chest.
All the dirty thoughts she's conjured up on the road are rushing back. She longs for touch. She'll take her own. Her hands wander over her breasts and down her body. Her faux leather pants are skintight and she pulls them up snug into her damp crotch. She pries her hand inside to feel how wet she is.
It's a dreary day. The clouds outside are puffy and gray. One more collision of droplets and the clouds are going to burst.
She'll beat them to it. A hard rain's gonna fall.
Something's been burning a hole in Kate's jacket pocket. She pulls out a little black cock – travel size – and sucks it wet. She turns her gorgeous ass around and bends over to feel the vibrations over the stitches that cross through the soft spot between her legs. Her pants go down over her knees and the vibrator makes direct contact. When it finally penetrates her, she breaks her silence with a moan.
Kate takes a seat on the edge of the bidet and lifts her legs up, balancing herself as she slips the vibrator through her wet folds. She stuffs it inside herself and pulls up on it to send some good vibes her clit's way. The vibrator is slick with her juices.
Kate feels something stirring inside her. She squats on the floor, resting her back against the wall. The vibrator hangs inside her for a moment but falls to the floor as she works her clit.
Her juices come out, at first in a dribble. They slowly trickle over her parched pussy lips.
What comes next is more like an explosion. It splatters her black heels with her dew drops. Her excitement peaks as her juices form a puddle on the floor.
She's still not done.
As her orgasm cycles through, she squirts in rhythm with each exhale of pleasure.
Kate pulls up her pants and washes the vibrator off in the bidet. She exits the bathroom quietly. On her way out, she's got a little feedback for the owners. It seems the bidet has sprung a leak.
About the author: The Junkman is a contributing writer for the MetArt Network, blending his twin passions for erotic storytelling and high-class porn. He shares a range of musings at JunkPixels.com
If you enjoy erotic fiction and would like to contribute some of your own, you can email it to fanfiction@metart.com. We don't promise to post it in full, but we will pick out the juiciest bits to share! To see more stories and true confessions, check out our free fiction site, MyErotica.com
Latest Comments
There are no recent comments
18 U.S.C. 2257 Record-Keeping Requirements Compliance Statement
Warning - This site contains adult material of a sexual nature - you must be of legal age in your area to view this material.
All materials on thelifeerotic.com, are copyright © 2019 thelifeerotic.com. All models were at least 18 years of age when photographed.
0.11.7