December 17, 2018 - by: Rose
Erotic fiction inspired by Sofia Z in "Scheduled Time 2"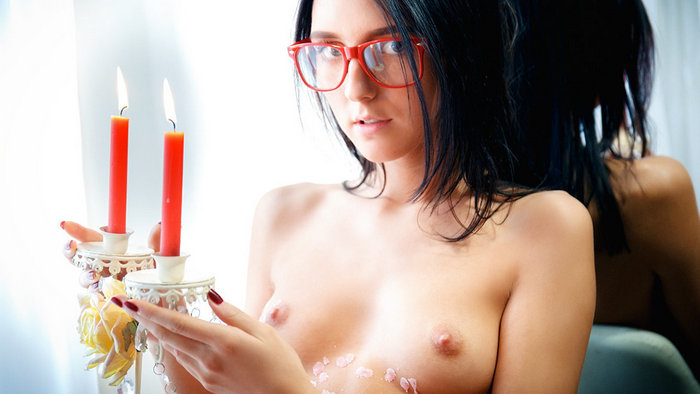 Sofia looks so cute, so chilled out as she sits on a park bench reading her newspaper and scrolling through her phone. You'd never guess she's just killing time before a date… with herself.
Back home she sets the mood, lighting some candles, pulling up her top to expose her naked breasts, nipples already stiffening with anticipation. But the candles aren't just to make her feel amorous; this innocent-looking babe hides a kinky secret. Taking one of the scarlet tapers, she tips it so the hot wax drips onto her bare thigh. It sends an immediate shiver of arousal through her, so compelling that she slides her hand into her lace panties to feel the sudden rush of wetness from her pussy.
Soon she's naked except for her boots, one hand working busily between her spread thighs as the other holds the candle to her breasts, dripping wax over her tender flesh. Her clit swells and throbs, her breath coming in gasps of mingled pleasure and pain. She can't hold back, grinding the butt of the candle against her slippery pink folds, fingers dancing over her lips. Eager for penetration, she blows out the candle and watches herself in the mirror as she pushes it inside her pussy, jamming it deep, fucking herself with quick strokes until her release comes gushing out to spray the mirror. She looks into her reflection's eyes as she sucks her sweetness from the candle, her darkest desires satisfied… for now.
If you enjoy erotic fiction and would like to contribute some of your own, you can email it to fanfiction@metart.com. We don't promise to post it in full, but we will pick out the juiciest bits to share! To see more stories and true confessions, check out our free fiction site, MyErotica.com
Latest Comments
There are no recent comments
18 U.S.C. 2257 Record-Keeping Requirements Compliance Statement
Warning - This site contains adult material of a sexual nature - you must be of legal age in your area to view this material.
All materials on thelifeerotic.com, are copyright © 2019 thelifeerotic.com. All models were at least 18 years of age when photographed.
0.11.7