December 11, 2018 - by: Rose
Erotic fiction inspired by Cristin in "Stimulation 2."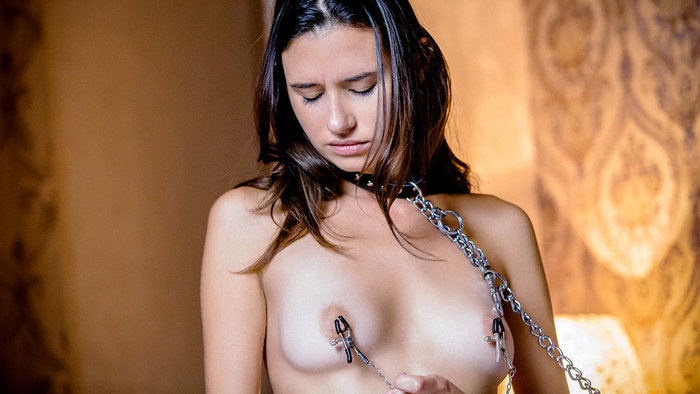 Cristin's nipples throb steadily from the pinch of the clamps around them. She feels it all the way down to her tender pussy, the hot waves of pleasure-pain that swell and recede, over and over.
She placed the clamps there herself, and she could just as easily remove them, but she finds that she doesn't want to; the more her nipples pulse and stiffen, the wetter her pussy gets. She gives the chain attached to the clips an experimental tug and it's as if someone has reached out and tweaked her clit between their finger and thumb. The stab of arousal is irresistible, skewering her with its force.
She slides a hand down to touch her clit and her hips buck up involuntarily from the electric sensation. It's almost too intense. Tentatively, she tries pulling at the chain with one hand while she strums her clit with the other, but she feels the contractions of an impending orgasm build almost immediately, and that's not she wants. Her intention is to draw this out as long as she can, until she cums so hard and so long she'll feel it for days.
Flipping onto her knees, she rocks back with her ass up high so she feels her asshole gape open as she rubs her clit. The clamps and chain hang heavy beneath her, swinging as she rocks back and forth against her fingers, the weight of them dragging at her nipples until her arousal becomes even more excruciating. Her wetness is drenching her fingers now, making them slip and slide around her clit as she grinds on it.
She pushes two fingers into her pussy, a gush of wetness accompanying the sudden stretch of penetration. It's too much, and she collapses down on her front, the friction of the sheets against her engorged nipples tipping her over the edge. She cums just as long and hard as she'd imagined, humping her fingers frantically, blindly seeking the sweet flood of release.
As she lies there in her post-orgasmic haze, Cristin wonders drowsily how it would feel if she attached the clamps to her clit…
If you enjoy erotic fiction and would like to contribute some of your own, you can email it to fanfiction@metart.com. We don't promise to post it in full, but we will pick out the juiciest bits to share! To see more stories and true confessions, check out our free fiction site, MyErotica.com
Latest Comments
There are no recent comments
18 U.S.C. 2257 Record-Keeping Requirements Compliance Statement
Warning - This site contains adult material of a sexual nature - you must be of legal age in your area to view this material.
All materials on thelifeerotic.com, are copyright © 2019 thelifeerotic.com. All models were at least 18 years of age when photographed.
0.11.7