April 24, 2018 - by: Donna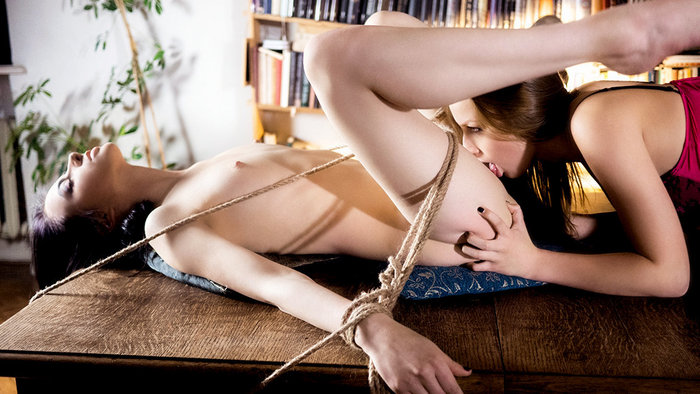 There's nothing quite like watching two beautiful girls playing kinky domination games, and Xanthus' outstanding movie "You Are Mine 2" hits all the right notes for me. I like the gentle introduction, where we see Anna G writing a letter, deep in thought about what she wants to jot down, but then we cut to the startling sight of Ayza, on her back, ropes crossing her body, legs strapped with her knees up and her thighs parted.
At first, we can't see who she's with, only their hands, but we can hear how hard they are slapping her. They smack loudly against her ass and she gasps in surprise. Then they slap her hard on her shaved pussy, right on her clit. Her body shakes with the shock of it. Azya can't see or know when the next slap is coming or where it will land. That hand keeps roaming over her ass, playing nice until it's lifted from her skin and brought back down hard. If you've ever played spanking games, you know that uncertainty is part of the thrill, keeping you on the edge in horny anticipation of pleasure and pain.
Eventually, the camera pans out and we see that it is Anna G kneeling between Azya's raised feet. It's her hand that comes down hard on Azya's ass and pussy. The skin of Azya's ass is now red, marked by Anna's forceful hand.
Now Anna plays good cop, so to speak, leaning forward to press her tongue between Azya's pussy lips, licking her with her warm, wet, soft tongue. Azya can't escape and Anna is really enjoying herself, lapping at her pussy and spanking her hard. It's the most exquisite torment, making her squirm against her restraints, hardly able to bear it and yet still wanting more.
Azya is lashed to a table, arms and legs roped together, spread open like a petal. She can move her head if she wants but she is a pliable submissive who dares not move. All she can do is gasp and cry out whenever Anna's hand spanks her tender flesh.
Without warning, Anna straddles Azya's face, fondling her, squeezing her tits while eating her pussy, reaching between her own legs, searching for Azya's mouth. Her pussy is too far away for Azya to lick, but Azya sticks her tongue out whenever Anna's hand comes close to her mouth. You can see how hungry she is for it. But every time Azya licks at Anna's hand, Anna pulls it back and spanks her.
We watch from the perfect angle above Azya's head as Anna works on her pussy, slapping her thighs, smiling while she licks her juicy slit. She pulls Ayza onto her face more vigorously, hands climbing up her body to grab Azya's little titties, nipples stiff and suckable. It's not surprising Ayza's orgasm is so intense. Afterwards Anna showers her with soft, open-mouthed kisses, soothing her like any good domme should.
I can't help wondering if they are a real life couple, as their sub-dom dynamic seems completely natural and very enjoyable to them both. And it's just as pleasurable to watch, of course!
April 18, 2018 - by: Naomi
Erotic fiction inspired by Nicole Love in "Dildo Debutante 2"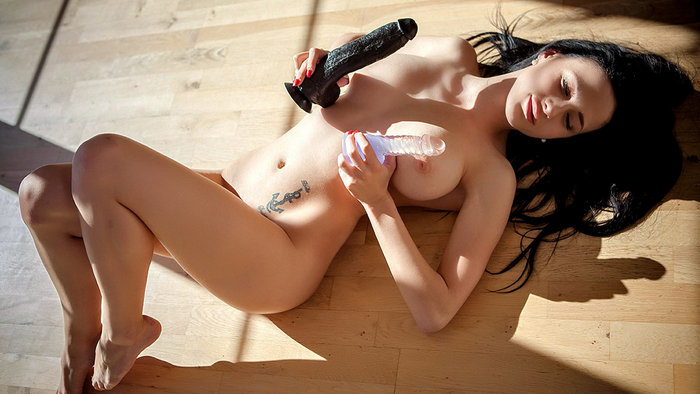 Some people are members of clubs where every month they get sent a selection of wine, or chocolates, or craft beer to sample. I'm a member of a club where every month I get sent sex toys to try.
It's always a thrill to come home and find the box waiting for me. Each time I get a delivery, I make an occasion of it, dressing in sexy underwear and playing with myself through my panties, getting myself in the mood, wondering what will be in store for me. And only then do I unwrap the box.
Last week I received a set of two dildos, a transparent one that was about the same size as a regular cock and a big, black monster. When I saw the big one, I was tempted to go straight for it and fuck myself silly right away, but I've learned that good things come to those that wait, so instead, I left it in the box and took out the smaller one. I coated it in lube and gave it a little experimental jerk to see how pliable it was.
It felt good in my hand, thick and hard and ridged. I rubbed the shaft over my pussy, spreading my lips open with it and feeling its ridges teasing my clit awake. I sat on the floor and held it in my hand, imagining I was face to face with a fuck buddy and it was his dick I was rubbing myself against, when it accidentally stuck itself to the hardwood flooring. I hadn't even noticed the suction cup on the bottom, but I didn't waste time marveling.
My fingers wound their way to the top of the cock and I experimented with it, letting it slap against my clit. My pussy was so wet now, and my lips were wide open. My juices and the lube had mingled and spread down my thighs and around my asshole. My nipples were rock hard – even the hair on my skin was standing at attention, just like the rubber cock stuck to my floor.
I got to my feet and squatted over the dildo, easing my way down onto it. Gripping it tight with one hand, I plunged myself down, all the way, feeling it open me up inside. Oh, how good that felt, to be in control and yet impaled on this rubber cock.
I fucked it vigorously, bouncing myself up and down, playing with my tits, frigging my clit with my fingers as I rode the dick. And then I remembered the monster still in the box. That was it, I was off the regular cock-sized dildo in milliseconds and coating the big black beast with lube. I jerked it and it felt amazing, so thick in my fist – could I really take this huge thing inside my tight pussy? There was only one way to find out.
I was so pleased to discover that I could stick this one to the floor too, and I immediately suctioned it to the wood and squatted over it. I was tentative at first, holding it in my hand and easing myself onto it, nudging my clit with the bulbous tip before taking it inside. It was a tight fit, so thick that it stretched me wider than any toy or real cock I'd ever experienced. But once it was all the way inside me it felt amazing, and I stopped holding back and started riding it forcefully.
I fucked it loud and hard, moaning loudly, slamming down on it until I was full. I had no idea how much of it was inside me and I didn't care. I was ready to cum, unable to stop myself, my whole body spasming wildly as I orgasmed on that monster dildo, my pussy clenching around the fat shaft.
I collapsed forward and felt the dildo spring out of me, flicking pussy juice and lube all over my ass and thighs. It took me five minutes to get my breath back. I just lay on the floor, a mess, smeared in my own juices, the big cock still standing at attention between my thighs.
If you enjoy erotic fiction and would like to contribute some of your own, you can email it to fanfiction@metart.com. We don't promise to post it in full, but we will pick out the juiciest bits to share! To see more stories and true confessions, check out our free fiction site, MyErotica.com
April 03, 2018 - by: Rose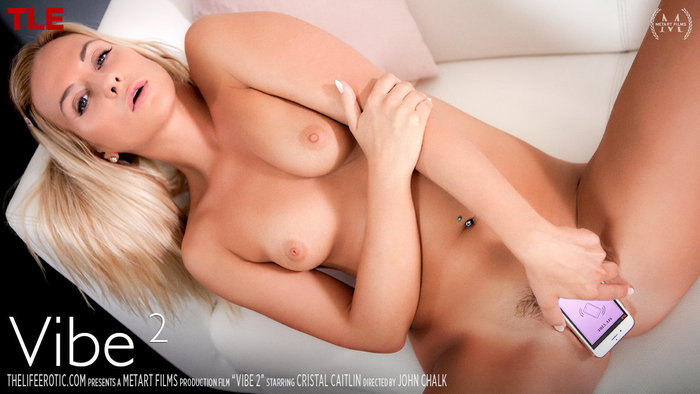 It's been an exciting month for erotic movie lovers here at The Life Erotic, with hot new models and returning favorites sharing their kinkiest turn-ons. Bernie in "Panty Stuffing 2," naughty "Layla's Pee Desperation" and cute "Dildo Debutante" Nicole Love all made a lasting impression, while curvy Daiga's dungeon fun in "Red Surrender" and Gabriela's roleplay game "In The Trunk" pushed boundaries in a most arousing manner. There was so much exciting action to choose from, but here's my personal, and entirely subjective, top three movies of the month:
Busty blonde Aislin is a very sexy and uninhibited girl, and Sandra Shine's "Privacy 2" captures her daring sensuality perfectly, as she sneaks into the men's bathroom of a club to masturbate. Looking stunning in her little black dress and high heels, she bares her beautiful big breasts, pinching her pierced nipples, then gets gloriously naked and frigs herself to a very satisfying climax. Hot stuff.
Henessy's debut on The Life Erotic is long overdue – she's a favorite on our sister sites Sexart and Viv Thomas – and it's made in superb style in J Zakari's "Taping Myself." The lovely brunette is utterly in tune with her stunning body as she makes an audio recording of herself masturbating on a vintage tape recorder. There's a wonderful sense of intimacy as she touches herself, utterly absorbed in her own pleasure.
But my absolute favorite movie of the month is "Vibe 2" directed by John Chalk, which sees adorable blonde Cristal Caitlin using an app that turns her phone into a vibrator. Cristal uses it to tease her pussy through her white cotton panties, then shoves it inside them, the buzzing stimulating her deliciously. She gets naked, her tanned body looking incredible, her clit visibly twitching as she spreads her wet pussy open. She abandons her phone as the sensations grow so powerful she needs to fingerbang herself to orgasm. I defy anyone to remain unmoved by the sight of Cristal's quivering pink pussy!
What was your favorite TLE movie of the month?
18 U.S.C. 2257 Record-Keeping Requirements Compliance Statement.

Warning - This site contains adult material of a sexual nature - you must be of legal age in your area to view this material.
All materials on thelifeerotic.com, are copyright © 2019 thelifeerotic.com. All models were at least 18 years of age when photographed.
0.13.6