January 25, 2018 - by: Peter
Erotic fiction inspired by Gabriella Lati in "Secrets 2"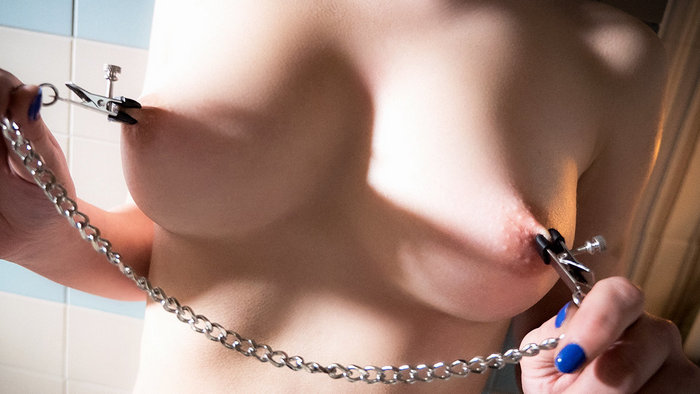 In the office where I work they have no idea about my secrets. They think I am a boring girl, only interested in paperwork and cats. They're always asking me out after work. "Come for a drink," they say. "We're all going out for a meal, come with us!" I always say no. They think I go home and do my laundry or watch TV.
Maybe when they're all out together they talk about me, invent fantastical stories about what I really get up to; but the truth is wilder than they could possibly imagine…
I go home after work because at home I can enjoy myself the way I like to. I don't care for drinks with my colleagues, I'm not interested in expensive restaurants. I like pain.
Pain is my pleasure. Pain makes me wet. Pain makes me feel alive. I go home and take off all my clothes as soon as I get through the door, walking naked through my apartment making straight for my toys. The anticipation of what is to come makes my body tingle and my pulse race. I am alone, I am in control, and yet I do not know what I'm going to do exactly, and this is a thrill in itself. I light a candle, a flame that matches my passion and desire. Let it burn without restraint!
I kid myself that I don't know what I will do, because I always reach for my Wartenberg pinwheel, a metal toy like a cowboy's spur that's spiked. I test the spikes with a finger; they are sharp to the touch and make me flinch. But a smile soon blossoms on my face – a little hurt like that always turns to the other side of the coin as I find myself warming to it, wanting it, thinking about how it will feel on other parts of my body, parts that are more sensitive. I roll the spines over my forearms, which feels a little painful but nothing special and only makes me want to go further. The pinwheel is easy to guide up my arms to my shoulders and then it's just a short roll down to my breasts.
I bite my lip in anticipation – here is where others would turn back. Now is when most people would stop, as the pins dig into my skin and begin to hurt in the most delicious way. With each turn of the wheel the spines get closer to my breasts, the pain goes from a tingling sensation to a hot, sharp agony as I roll the wheel down over the soft flesh of my budding breasts and onto my nipples, where they dig into my areolae and I gasp with the intensity of it all. It brings a rush of erotic desire with it, and I lose myself in the pleasure of that. My body floods with sexual need; I feel my pussy tingling as my juices begin to spread, trickling between my lips. My other hand strokes my thigh and my fingers seek out my pussy, teasing my lips open, stroking my wetness over my clit softly, gently, caressing my nub.
Now I push my wheel across my nipples faster and harder, and I make myself gasp and shout, my fingers slipping inside me without me even noticing. I am so wet, two fingers inside me, probing myself as my hand cups my clit and grinds hard, the sharp spines of the pinwheel digging into my nipples as they stiffen under the cold steel.
I wake from the moment as if rising through the clouds into the clear skies above and come back to myself. My clit is hot and pulses. My fingers are wet with my own juices and I use them to soothe my nipples, rubbing my cream over each one softly, guiding my pinwheel down over my belly to my crotch.
I know this will hurt and I stop, unsure of myself for a moment. But I also know how much it will turn me on and I feel that deep desire inside me, urging me on, wanting to cum. There is a great difference between an easy orgasm from pleasure alone and the intensity of an orgasm that has been brought to the surface through the ecstasy of agony. Until you have tried it, you will never understand.
The pinwheel rolls over my clit, so sharp, so painful that I yelp and bite my lip, a tear slipping from my eye. To ease the pain, I rub my pussy juice over my clitoris; it throbs in pain but beneath it there is a fire that burns, my clitoris liked it, I know it wants it again and I am a slave to my own pussy. Again, I roll the pins over my clit and cry out. My breath is coming in fast, hard gasps and my body shudders, teetering on the brink of that razor's edge that is the pleasure and the pain. I squeeze my clit between finger and thumb, as if this will relieve the pain of the pricking metal, isolating the tip of my clit. With my other hand, I drop the pinwheel and begin to rub my oily juices over the tip. My body bucks under the intensity of the sensations. Nothing can feel as good as this…
But I want to enjoy this feeling for longer and I stop before I have cum, reaching for my chains, which I clamp to my nipples. They squeeze my nipples hard and I pull on them, thinking how good it would be to have someone do this to me. The pain is hot, the agony prolonged as I tease myself, pulling the chain slowly, the clamps gripping my nipples so hard. I feel my pussy aching to be fucked as I pull on the chain, making the clamps slip from my titties, squeezing my nipples tighter and tighter as they slowly come free, the tightness of their grip sending an electric sensation through my entire body.
I want to fuck, I need to fuck. I need to cum now. My body feels so alive at this moment – I am on fire with the flames of passions and desire, the heat of the pain, the fire of the pleasure.
Reaching for my candle, I drip hot wax onto my tits, the wax hardening instantly; the pain mingles with my lust and I nearly cum then. But I want to fuck. I take my dildo, a big rubber cock, and slide it over my clit, too far gone inside my own sexual desire to care about anything but my orgasm now. I ease it into me, filling me up, spreading my pussy open. I push it into me until the rubber balls are up against my clit, and buck and grind on it, seeking only pleasure.
I can still feel where the pinwheel has dug into my clitoris and nipples as I take my toy into the bathtub, lying back and turning on the shower, using the warm water to stimulate my clit as I fuck myself with the big rubber cock. The warm water tingles on my clit, the pricking sensation brought back to the forefront of my mind, and I cum then. It is a hard orgasm, a body shaking, mouth open, gasping orgasm. It leaves me physically spent.
I collapse back in the bathtub, my hands unable to hold the cock or the showerhead as the dildo slips from my pussy and the water shoots all over the place. Sometimes I lie there for a long time, the sensations of my orgasm rendering me completely unable to move.
I know I should make an effort at work to socialize, to go out with people and live life as they say you should. But I also know that I will be thinking about how good it felt to cum like this tomorrow at my desk, and I know that I will come home alone to pleasure myself like this all over again.
This is what I do. This is my secret. Tell me, what's yours?
If you enjoy erotic fiction and would like to contribute some of your own, you can email it to fanfiction@metart.com. We don't promise to post it in full, but we will pick out the juiciest bits to share! To see more stories and true confessions, check out our free fiction site, MyErotica.com
January 18, 2018 - by: Rose
Erotic fiction inspired by Daiga in "Body Beyond"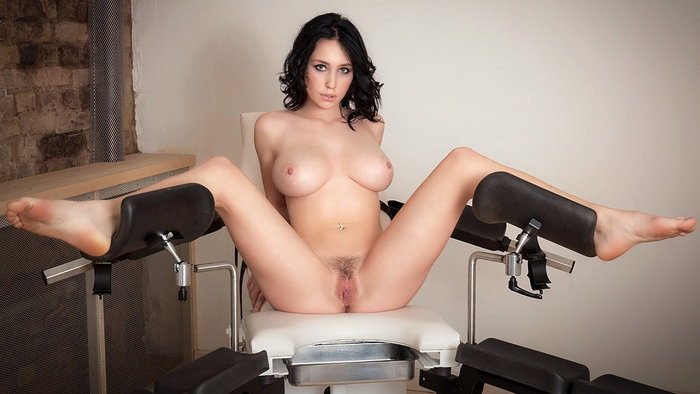 The device looks incongruous in the brightly lit room as Daiga approaches it. Dressed in a shiny black, figure-hugging basque, the sexy brunette is already in the mood for physical gratification, squeezing her big breasts and curvy ass cheeks as her body fizzes with anticipation. She can't wait to get naked now, and peels off the kinky lingerie, letting her huge breasts swing free with a satisfying bounce, nipples growing hard.
Daiga know she's not permitted to touch the torture chair when her Master and Mistress aren't here, but that just makes her want to feel the leather seat against her bare skin all the more urgently. Sitting, squirming her wetness against the leather, she raises one leg high, placing it on one of the outstretched leg rests. Immediately, her mind is filled with images of all the times she's been fucked in this chair, all the times Master has strapped her to it and thrust his cock into her hairy pussy, all the times Mistress has sucked her clit until she's screamed from the overload of pleasure.
Daiga can't help it; she just has to touch herself. Masturbation is not allowed, unless Master and Mistress are watching, but her pussy is throbbing with the need to be drilled. She plunges a finger inside, the sticky sounds of her own excitement turning her on even more, tits swaying heavily. Daiga pictures Master's cock thrusting into her juicy hole, stretching it open. She imagines him gripping her hair roughly, tugging her head back so he can look into her eyes as he slams into her. Her free hand goes to her breasts, pinching a nipple hard as she recalls the sensation of Mistress biting and twisting it.
Turning around, Daiga bends over and frigs herself harder from behind, remembering Master's threat to let all his friends line up and fuck her, one after the other. Each cock will fill her tight little cunt in turn, and she won't know who is inside her from one moment to the next, won't be able to tell them apart as the burning pleasure consumes her from the inside out.
She mounts the chair now, legs spread high and wide in the leg rests as she finger-fucks her soaked cunt rapidly, imagining them all standing and jerking off over the sight of her masturbating so blatantly for them. As her orgasm sweeps over her, she pictures them stepping up and letting loose streams of hot cum, feels it splattering down all over her body, hot spurts coating her breasts and pussy in slippery goo.
Daiga doesn't bother wiping the sticky evidence of her climax from the seat. She knows she's done wrong; now Master and Mistress must punish her as they see fit…
If you enjoy erotic fiction and would like to contribute some of your own, you can email it to fanfiction@metart.com. We don't promise to post it in full, but we will pick out the juiciest bits to share! To see more stories and true confessions, check out our free fiction site, MyErotica.com
January 01, 2018 - by: Rose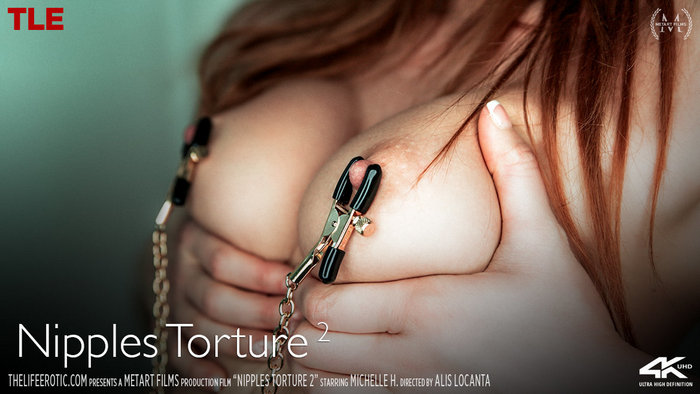 2017 was a wild ride at The Life Erotic, packed with gorgeous girls daring to push their sexual boundaries on film for your viewing pleasure. It's never easy to pick out favorites when you're so spoilt for choice, but two movies are tied for the top rated spot at the time of writing…
"Nipples Torture 2" is an intense exploration of kinky sexuality, starring stunning redhead Michelle H and directed by Alis Locanta. The uninhibited, sultry beauty begins by exposing her perfect breasts on the highway, before punishing herself for her indiscretion with an O-ring gag and nipple clamps. Highly stimulated by the sensations, she masturbates to an overwhelming orgasm.
The other top rated movie of 2017 is "Hard Candy 2" starring the incomparable Emily J, muse of director Paul Black. Emily dares to bare her soul as well as her beautiful body, laughing as she rubs a sticky lollipop over her hairy pussy, jamming the stick in her tight asshole and frigging to a powerful climax, all accompanied by a hyperreal soundtrack. Nobody else on the planet is making erotica quite like this.
So which was your favorite movie of the year? I have a soft spot for Elle Rose getting frisky with her vegetables in "Organic DP 2," and Sandra Shine's naughty "Undercover" flashing series, but Rebekah Ruby is my standout star of the year for the way she makes very inappropriate use of the tools to hand in Higinio Domingo's insanely hot and original "Something New 2." How about you?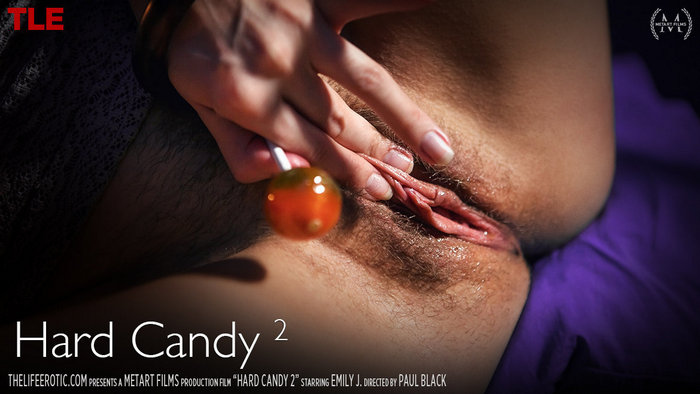 18 U.S.C. 2257 Record-Keeping Requirements Compliance Statement
Warning - This site contains adult material of a sexual nature - you must be of legal age in your area to view this material.
All materials on thelifeerotic.com, are copyright © 2019 thelifeerotic.com. All models were at least 18 years of age when photographed.
0.11.7