December 18, 2017 - by: Rose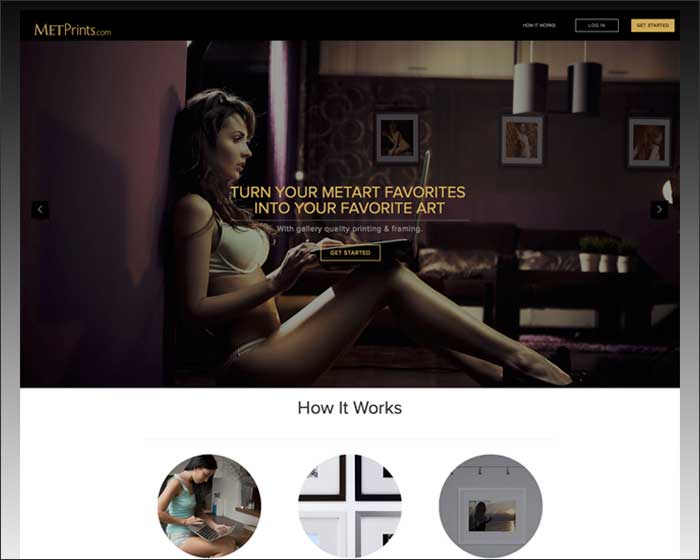 If your bedroom or den is lacking that personal touch, MetPrints offers the ideal solution. Just select a shot of your favorite model from The Life Erotic – or the other hot sites in the MetArt Network – at her sweet, sophisticated, seductive best, and your high quality, framed print will be shipped direct to your door. There are already over 100 superb shots to choose from, in six sizes, and shipping is free.
A gallery quality MetPrints picture of one of our beautiful girls is the perfect way to give your room a glamorous, erotic ambience. It's a wonderful gift for a lover… or just treat yourself!
December 11, 2017 - by: Rose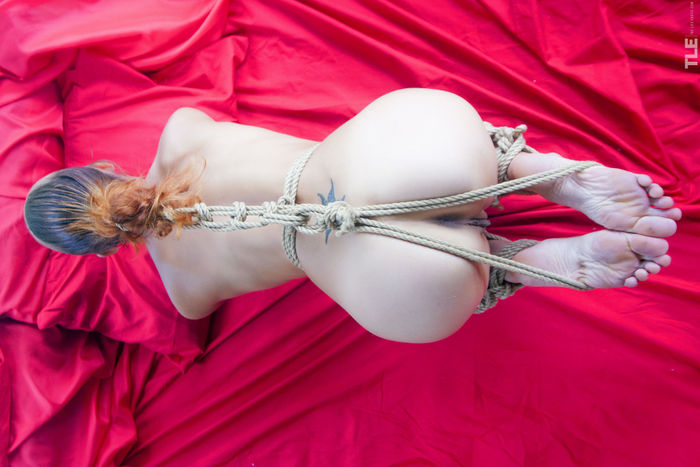 With the rope that binds her feet braided into her hair in such a way that it tugs her head back and keeps her bent over with her ass and pussy on display most pleasingly, Lesma is a Shibari enthusiast's dream.
The Japanese word Shibari literally means "to tie," but it is commonly used to describe an ancient form of artistic rope bondage which is more correctly called Kinbaku. "Can't Resist," an erotic photoset by Angela Linin here on The Life Erotic that shows green-eyed brunette Lesma willingly submitting to her restraints, displays the stunning geometric patterns and complicated knots that typify Shibari. The positioning of the knots is significant, as it is believed their placement stimulates pressure points on the body, influencing energy flow.
Shibari can also induce the submissive yet euphoric condition known as "sub space" – the subject is helpless, utterly at the mercy of their artist or 'rigger.' It can be demonstrated purely as an art form, but not surprisingly Shibari is often incorporated into sexual BDSM play.
Lesma's expression reveals her pleasure; she is both literally and metaphorically being opened up, her calves bound to her thighs in a manner that spreads her pussy for the camera's gaze. Her wrists are restrained, and two lengths of rope extend around the crack of her ass in a way that must be almost unbearably stimulating. When the ropes are parted so they lie across her tender ass cheeks, they pull her hair and force her into a doggy position. Her smooth shaved pussy and asshole are framed by the rope, drawing the eye to her intimate folds, displaying them as the centrepiece of a stunning, highly arousing work of living art.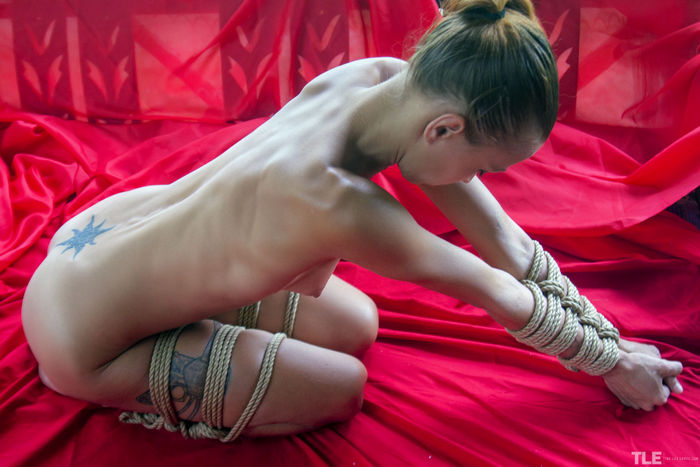 December 05, 2017 - by: Naomi
Erotic fiction inspired by Viola Bailey in "Oil All Over"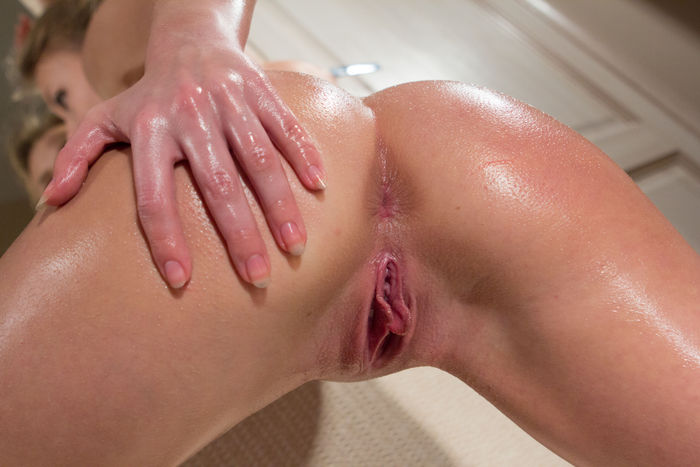 Ray straddled me, his naked thighs wrapped around the back of mine. He poured the first drops of oil between my shoulder blades, a cold shock to the senses. His hands smoothed the oil into my back, warming it and spreading it across my shoulders. The tension eased and I relaxed into the table with a sigh.
I heard the squirt from the bottle and more oil ran down my spine to the small of my back. Ray massaged it into my skin. His hands were getting hotter each second they were on me, thumbs working into my muscles, searching out knots, responding to my reactions.
I could feel his cock resting on my butt, growing along the crack of my ass. Could he feel my heat? His hands on my body relaxed me and turned me on, and his cock growing in length and girth made me wet. My lips became oiled with my own juice.
He shifted his body, moving further down my thighs. His hands worked down my back, searching for knots above my hips as he raised himself up off my thighs. The tip of his cock brushed against my cheeks, close to my pussy like water torture. When would it press against me again? Each time his tip pressed against my ass I shifted, trying to signal my pleasure at his growth. I wanted him to know I was willing and ready. But to speak would break the spell.
His hands moved down to my ass now. They worked on my ass cheeks, first massaging them, working the thumbs in, looking for tense muscles; but then growing bolder. Thumbs that were pushing were now pulling, grabbing my cheeks, spreading me open. The oil had spread all over my ass. I lay there in silence as I heard him reach for the bottle and deliver a slick spill onto my ass crack.
He pulled my cheeks apart and I felt the tip of his cock meet the oil at the top of my cleft, then slide all the way down my ass crack, spreading the oil along it, over my asshole and down to trickle over my pussy.
Ray aimed his cock at my pussy, dipping down between my thighs, his oil-slick cock meeting my creamy, oily pussy, parting my lips, skating smoothly over my clitoris. I reacted involuntarily, lifting my ass up, wanting to feel him closer, harder. I wanted him inside me, pushing into me, spreading me open. I wanted to feel his balls hitting me, to know he was all the way in.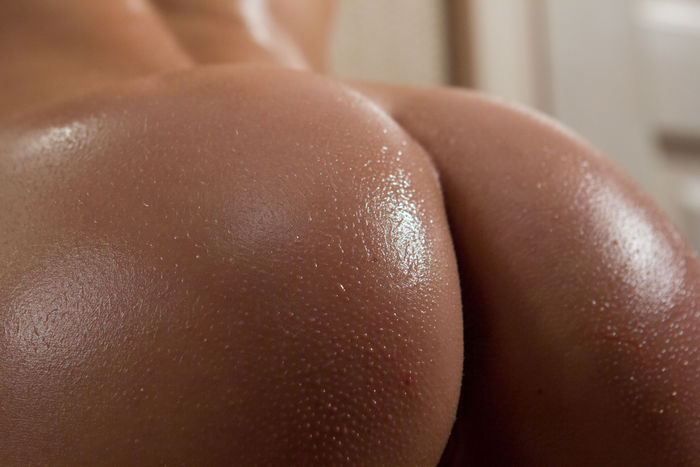 But Ray liked to tease. He knew how to make me want it so bad I would beg for it. I was at his mercy. He began to dip his cock in and out between my thighs, pinning me down so all I could do was whimper and moan. At last I felt him shift his weight, moving to allow his cock to push into my pussy. I welcomed him inside, but he only slid the tip of his dick inside me, no more than that, leaving it there to make me plead for more.
Slowly, he took his hands off my hips and I took my chance, pushing myself as far back against him as I could, taking his thick cock inside, moving my ass back and forth in that cramped position beneath him. I would have gladly fucked him like this, so happy to have him inside me, ready to cum on his cock and moan my lust into the bed beneath me. But Ray's firm hands returned to my ass cheeks, kneading them and squeezing, pushing me back into the bed, holding me in position as he withdrew his cock.
He lifted himself up and away from me, then brought his dick back down onto my ass, greasy with oil. I felt him rub himself up along my crack, the tip of his cock close to the base of my spine, and he pushed my ass cheeks together, squeezing them around his shaft. He moved again, his dick gliding down my ass, the head coming to rest on my asshole.
My virgin asshole.
He had never asked before, and I had never offered, but now it felt so right. I wanted him inside me.
He spanked my ring with his cock, knocking on my door, as if asking permission to enter. I shifted beneath him, pushing back against him. I want you in me. Enter me. Fuck my ass.
He was gentle, though hard as a rock and desperate to fuck me now that I had given him permission. He pushed his cock against my asshole and I resisted, naturally, before relaxing. I felt him begin to open me up, his cock opening me like a flower. The stretch of his bulbous tip penetrating my asshole made me gasp, and I tensed. Ray held still, not moving until he felt me relax beneath him.
He squirted more oil onto my ass; I felt it gather around his cock, entering my asshole along with his prick. He slid slowly inside, all the way in until he had filled me up. We rested that way, feeling him inside me, a first for us both.
Then he began to fuck me, pulling his thick cock out and pushing back in steadily. His cock felt huge in my ass. He gradually gathered pace. I felt my pussy react, my clit grinding against the bed, his cock filling my ass, touching me where I had never been touched. I could hear him behind me, breathing hard. I wanted it harder now.
I couldn't stop myself, I begged him to fuck me. Voice high: please, please fuck me!
He couldn't keep his cool, I had made him so horny. He thrust harder and came inside my ass, his hot cum filling me up, filling my ass and mind, sending me over the edge. I came beneath him, feeling as full of cock as I had ever imagined. My ass, my virginal ass, taken, filled and fucked.
If you enjoy erotic fiction and would like to contribute some of your own, you can email it to fanfiction@metart.com. We don't promise to post it in full, but we will pick out the juiciest bits to share! To see more stories and true confessions, check out our free fiction site, MyErotica.com
18 U.S.C. 2257 Record-Keeping Requirements Compliance Statement
Warning - This site contains adult material of a sexual nature - you must be of legal age in your area to view this material.
All materials on thelifeerotic.com, are copyright © 2019 thelifeerotic.com. All models were at least 18 years of age when photographed.
0.11.7