October 16, 2017 - by: George
Erotic fiction inspired by Karina Baru in "Seductress"
It began with an arched eyebrow across the table as I sat down for another meeting. Instinctively, I froze. I could tell that something had cooled between us. Was my fly open? It became obvious what the problem was when Karina started going on about setting an example and drinking our own cafe's coffee. And of course, I wanted to take my double cappuccino from the stand down the street and crawl under the table...
The good thing about these endless meetings with Karina was her athletic build and good looks. She was an adorable, high energy, fun new manager. She had long, dark hair and always dressed perfectly, in tight, form fitting outfits that showed off her nice figure.
Later on, I cornered her. "Hey, you know, I agree with you, we all need to set an example – I just wanted to take care of my coffee girl down the street!"
She looked me up and down. "You have a lot of potential, Greg, but you need to apply that potential for this to work between us."
What did that mean?
"So listen, Greg. How about we meet after work, talk things over. Get on the same page, you know? Come by my place tonight."
Around eight she answered the door in a figure hugging dress, her shapely legs in heels. As always, she was a dream to look at, and a challenge for my work boundaries as a manager. A couple decades ago I'd drifted into the restaurant business mainly so I could meet girls. These days I kept it cool, but Karina gave me a lot to think about.
I followed her into the bedroom. She had a nice four poster bed and we sat chastely on the edge. Karina rested her hand on mine.
"Greg, you need guidance in how to restrain yourself and your desires and urges. You could be much more effective. Will you let me help you? I do life-coaching..."
Such a cutie pie. Of course I'd let her help! "Uh, sure Karina. Always trying to improve my performance. What should I do?"
"Just lie back and relax, I'll take care of it!" and before I knew it she had snapped handcuffs around my wrists and the bedposts, immobilizing my arms. Then she tied soft ropes around my ankles and bound my legs to the posts at the foot of the bed.
Bemused by all this, I had to ask, "Karina, is this some kind of exercise?"
She was unzipping her dress. "It's training, Greg. I see how you look at me. No doubt you'd love to have sex with me. And you probably think about fucking all your little coffee stand friends too."
"Hey, they're nice girls! And I'm helping them get started, you know..."
"Really? Think of all the time and attention that takes away from your work! I've seen you on your phone checking their bikini sites; what's up with that?" She had me there.
By now Karina was down to her thong panties and a strappy bra that left her nipples bare. She had nice small breasts with cute pink nipples.
"Karina, this is getting out of hand. I think you should let me g-!" Suddenly she slapped my face, hard! I was mute with shock. She took advantage of the moment to slip a ballgag into my mouth.
Kneeling right over my chest, she placed her hands either side of my head on the pillow and lowered those pink nipples slowly down to my lips. I just had to take a taste – damn ball gag – and got another slap for it.
"See, Greg? You need to start controlling yourself! I want to see some effort." She smiled sweetly. "Okay, let's try this..."
She turned her backside to me, spanking herself once, making her cheeks jiggle. She played with her thong, slipping it through her pink lips and back and forth over her pucker. I was mesmerized. She was watching me...
Another slap.
"Try again!"
I stared at the ceiling, tried to think about glaciers. Karina grabbed me by my hair, forcing me to look. She went back to work, reaching between her pale thighs and circling her clitoris with two fingers, massaging it. She was getting into it now, her pussy glistening. I could smell her scent and it was making me melt around the edges. She slid one finger in deep, rolled it around and withdrew it shining with her cream.
"You're not doing so well, Greg. Getting a pretty good boner down here. Oh, you can control it alright, but you don't. So you need some punishment!"
She unzipped me and my erection sprang out. "This is your punishment, Greg. You can't let yourself cum, got it? If you do I'll burn you at work."
Her warm lips wrapped around me and her fist began to pump; it felt heavenly. I had to shut my eyes. I couldn't watch her pink, creamy pussy lips any longer, or her pulsing asshole winking at me either. I thought about schedules, and spreadsheets, but nothing was working, she was too good, sucking my cock deep and lapping with her tongue while she massaged my balls. I was growing stiffer and I knew I was close. Trying to hold it in was torture.
Karina stopped and looked up, watching me close. Despite my squirming, I'd started down that slippery slide and I couldn't recover. I started to cum, squirting and then dribbling semen down my quivering pole. It was awful; unsatisfying.
Karina released all my restraints and I sat there dejectedly. Damn! I'm going to leave now and she's going to frig herself off over this! Suddenly, I was pissed.
She squealed with surprise when I scooped her up and tossed her on the bed. I was right on top of her before she could move.
"You've been getting off on all this, right? You were going to do yourself after I left!"
She started giggling, not able to deny it as I spread her thighs and slipped my fingers into her warm wetness. My dick was making a quick recovery, so I pushed forward, easing myself inside her sopping slit. Instantly she started gasping and moaning with each thrust.
I turned her over. Her bottom looked so good I couldn't resist – I shoved her face into the pillows and spread her thighs. My cock was so wet with her juice it slid into her ass easily, but she was feeling it, clutching at the bed covers as I slammed it in deep. I turned her on her side and was able to thrust even deeper. Soon she was writhing in orgasm, gasping and moaning, but I was able to last now and fucked her right through another screaming hard climax.
Inevitably, her tight asshole had me ready to blow, but I wanted her to remember this, so I pulled out and kneeled over her face, stroking myself off over her, leaving sticky semen all over her lips, cheeks and chin while she was gasping for breath, welcoming it.
I left her lying on her bed, stunned and catching her breath, saying, "See you at work, Karina!"
So a week later I saw her at a meeting and gave her a cool, "Hi, Karina!" but then sat across the table with my tall coffee from the stand down the street, this time embellished with a nice lipstick kiss on the white paper cup. I looked up and Karina's eyes were flashing daggers at me. Mmmm, time for some re-education tonight!
If you enjoy erotic fiction and would like to contribute some of your own, you can email it to fanfiction@metart.com. We don't promise to post it in full, but we will pick out the juiciest bits to share! To see more stories and true confessions, check out our free fiction site, MyErotica.com
October 09, 2017 - by: Peter
Erotic fiction inspired by Mia Luna in "WILD"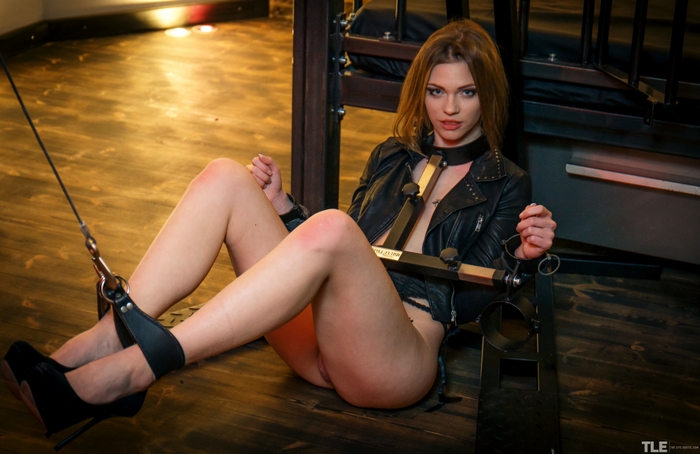 I work hard, therefore it is only right that I should play hard too. And I do. I play very hard. But when you play as hard as I do, it is good to have a mate who can keep up with you. Mia does, which is good, but when she doesn't, I have to punish her. I cannot have a mate who doesn't do what I tell her to…
I have had Mia for three years now, she came to me. She was interested in being a kept woman, she told me. She wanted to be kept by me. She is a beautiful woman, and that is important, but beyond that, she had to be willing to do everything I told her to.
She had come to me through a mutual friend, someone who I could rely on to make sure Mia knew what she was getting into. If she had come to me alone, I would have been wary. I have met women before who say they want to be mine but they cannot cope with everything I expect of them. Most often, it is the punishment and the sexual depravity they can't deal with.
I tried Mia out, letting her stay in my home for a week at first. I gave her strict instructions, written down and extremely detailed, about how she was to conduct herself. How she could please me. Typically, I expect to have my breakfast served at 7am. She must wake me at 6.30am, with the shower already running, and then make coffee. I expect her to return and wash my back, then wait with my towel for me to exit the shower before returning to the kitchen to ready my food.
She performed these duties well. She must then kiss me goodbye at my door – I am a respected member of my local community and I expect my woman to work hard at maintaining my respectable front within my local community at all times – fully dressed, with her make up and hair done.
When I am away, she is to stay in the house at all times except for when I tell her otherwise. My home must be impeccably clean, and it is her duty to ensure this is so. When I return from work, I expect her to open the door for me without my needing to ring the bell. She should have a glass of whiskey ready for me, on the rocks, and then my food should be on the table no later than 15 minutes after I arrive home; I am not an unreasonable man…
Mia did well during her first week, but on Friday I set a trap, knowing she would not be prepared, because it was time to discover if she could really be my kept woman.
I returned home from work an hour early. When I reached the door, it did not open for me. I had to use my key. Entering, I found Mia on the couch, flicking through my magazines. She jumped up, alarmed that I had arrived home early. It was her first real lesson. She should always be watching for me. Always.
"You have failed in your duties," I said, taking off my jacket and pouring myself a drink. "Twice," I added, dropping the ice into my glass.
"I am sorry," she said, standing in front of me, her head bowed, hands together.
"Come with me," I said.
There is a room I keep locked for such occasions. We stepped inside and I locked the door behind us.
"Take off your clothes," I said, rolling up my sleeves.
Mia looked around the room. There was a cage in the corner, some stocks, chains, handcuffs, instruments of restraint. A dungeon if you will.
I watched her a while, looking for any sign that she would fail here too. But she did not show any. A little fear, yes, but she tried her best to mask it. She undressed slowly, unsure of what to do with herself. She had been under my orders for five days, so this new turn of events would have been disorientating.
I walked over to the cage and opened it, motioning for her to enter. She looked at me, startled.
"Get in," I ordered and she stepped inside. I shut the cage and left her inside while I prepared myself. I undressed, and moved my stocks to where I wanted them. Then I opened the cage and led Mia out.
"Kneel down."
She obeyed me instantly. I took her hands and locked them in place, then strapped her head in. Now we would test her. She was locked in a position where I could use her mouth and her ass as I saw fit, with no discomfort. For me, at any rate.
I stood in front of her, my penis close to her face, and let it brush against her cheeks. She did not flinch, but raised her chin as if to take in me into her mouth.
"Did I tell you to do that?" I asked.
"No," she replied, her head down.
"Then do not."
I stepped around her to inspect her ass. It was pale, soft, untouched. I reached down and stroked her, then slapped her hard, quickly, to leave a print of my hand on her cheek. She gasped but no more. I pulled her open, my finger finding her anus. Here I would test her. If she did not complain then I would know that she was truly willing to be my kept woman. I pushed my finger inside her anus, dry. She clenched from surprise and I spanked her hard with my other hand, an involuntary reaction on my behalf when I am disobeyed. Mia relaxed as much as she could and I pushed my finger inside her ass until it was fully inside her. I grabbed her ass cheek with the rest of my hand and squeezed her hard.
"You have failed me. When you fail me, you will be punished. But today you will be learning what it means to be punished. Sometimes I will punish you because I want to. Sometime I will punish you even when I do not want to because you have failed me. Sometimes I will not punish you because you will soon learn to love your punishments and you will fail me intentionally just so that you can be brought in here and punished."
She said nothing.
"When I speak to you in here, you will answer me. You will call me Master. You are Slave. Understand?"
"Yes, Master," she said. She was breathing hard. This was a good sign. It was clear that Mia was a willing participant. She wanted to be punished. She wanted to be treated like this. Good. It had been a long week, and I had not had a slave for a while. We would not be long in here.
I removed my finger from her asshole and walked back around to face her.
"Open your mouth," I said and she did as she was told. I slapped her. "You have failed me," I said. She had already forgotten. "Open your mouth," I said again.
"Yes, Master," she replied. Better.
I gave her my finger, pushed it over her tongue. "Suck my finger," I ordered.
"Yes, Master," she tried to say, then closed her lips and sucked on my finger. I grew hard.
Taking out my finger, I replaced it with my cock.
"Suck my cock, Slave. But do not make me cum."
Again, she tried to speak, but her mouth was full. I slapped her face.
"Don't talk with your mouth full," I said.
She was good at sucking cock. I remember thinking that later I would have her tell me where she learned to suck cock like that. But now it was time for more punishment and discomfort. I pulled out and freed her from the stocks. I took her by the hand and helped her to her feet, moving her into the middle of the room.
"Raise your hands," I said.
"Yes, Master."
I chained her hands to the ceiling and had her standing there completely at my mercy.
"This will hurt, you can cry out if you like."
"Yes, Master."
I took some clamps and applied them to her nipples, screw clamps. As she was new, I did not tighten them all the way, just enough to make her feel some mild pain.
Then I took out some more and applied them to her pussy, clamping her lips open for me. She was wet. Good, she was willing. I walked around her, my dick was very hard. I spanked her, admiring her beauty. She looked excellent hanging there in chains, her nipples and pussy lips clamped. Her face was a picture of pain and pleasure. She was whimpering.
I was ready. I masturbated in front of her, cumming on her open pussy, my seed dripping from her pussy lips to her feet. I wiped my cock on her when I was done and dressed, leaving her suspended.
"You will wait here. Your punishment is over when I have eaten."
"Yes, Master."
"I expect you have not prepared my meal for me?"
"No, Master."
"You will be here for some time, then."
"Yes, Master."
That was her first time. I was pleased with her. I am still pleased with her.
If you enjoy erotic fiction and would like to contribute some of your own, you can email it to fanfiction@metart.com. We don't promise to post it in full, but we will pick out the juiciest bits to share! To see more stories and true confessions, check out our free fiction site, MyErotica.com
October 02, 2017 - by: Rose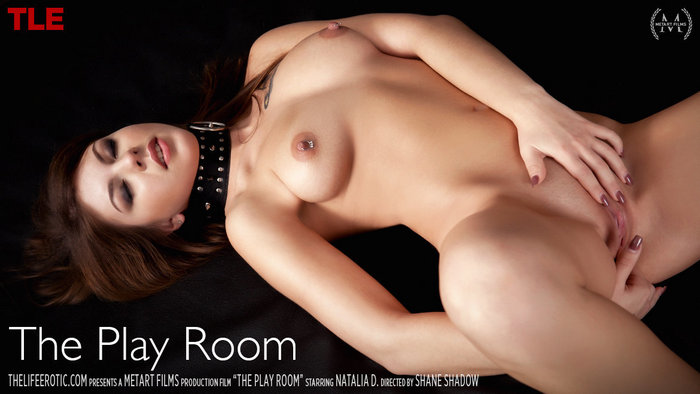 It's been a month of superstar models here at The Life Erotic, with top names including Michelle H, Malena A, Sabrisse, Kalisy, Tracy Lindsay and Emily J all making an appearance. With so much hotness in action it's harder than ever to choose favorites, but here's my entirely subjective top three movies of September 2017:
Vanessa Decker has an amazing, athletic physique, and in John Chalk's "Good Vibrations" we see the tanned babe working out in skintight shorts that cling to her perfect ass, before using a vibrating dumbbell to stimulate her hard nipples and tight pussy to a tremendous orgasm. If the sight of Vanessa's sensational body glistening with sweat doesn't inspire you to work out, nothing will!
Sandra Shine's extraordinary "Undercover" series is proving to be compelling viewing, as cute girls masturbate in public places. "Undercover – Thermal Bath," starring adorable brunette Rebecca Volpetti, is just so much fun. Naughty Rebecca strokes her shaved pussy in the changing room, the pool and the shower, nearly getting caught by unsuspecting passersby as she fingers herself to orgasm. If you like daring girls and public flashing, you'll love this!
But my absolute favorite movie this month was "The Play Room," directed by Shane Shadow and starring sexy Natalia C. She makes use of a beautiful custom made restraint device to cuff her wrists, then attaches the metal collar around her neck, all the while touching her hot body with its pierced nipples, butterfly tattoo and tempting shaved pussy. The restraint seems to intensify her orgasm, pleasure evident on her pretty face as she drills her pussy vigorously and her climax sweeps over her. Hot and kinky stuff… and Natalia's satisfied smile at the end says it all!
Which was your favorite TLE movie of the month?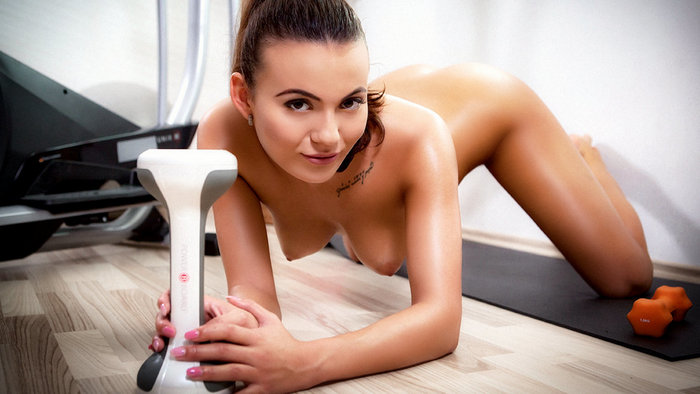 18 U.S.C. 2257 Record-Keeping Requirements Compliance Statement
Warning - This site contains adult material of a sexual nature - you must be of legal age in your area to view this material.
All materials on thelifeerotic.com, are copyright © 2019 thelifeerotic.com. All models were at least 18 years of age when photographed.
0.11.7