June 19, 2017 - by: Peter
Erotic fiction inspired by Milana K in "Temptation"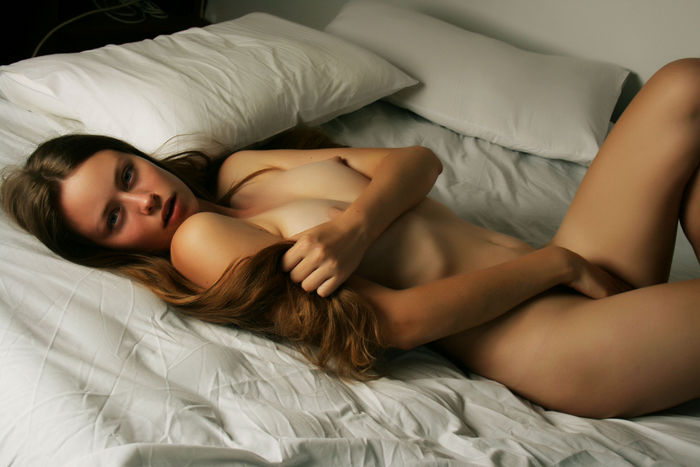 My sexy girlfriend Sandy is full of surprises, which is one of the things I love about her – she has the ability to blow my mind. We have a very good, adventurous sex life; but I was still a little freaked out to wake up one morning and find my wrists and ankles tied to the four corners of the bed.
I woke like usual with a raging boner, expecting to roll over and press it up against my girl, and that's when I was suddenly fully awake and freaking out. I couldn't turn over; and Sandy wasn't there.
I opened my eyes fast, the bright morning light making it hurt, and let out a cry of panic. My feet and hands had been tied up to the bedpost with cords from our bathrobes and a couple of my belts. The sheets had been pulled back so I was lying there in a star shape, totally naked and feeling increasingly vulnerable. Where was Sandy? What the fuck was going on? In the back of my mind, I knew it had to be her that had done this, but I still felt uneasy.
Then I heard a rattling sound, like someone outside the bedroom was spraying graffiti on the walls, that weird rattle of a ball bearing inside a can of liquid, followed by a smothered giggle.
I looked up to see a hand appear around the doorframe holding a can of whipped cream, then Sandy's smiling face slipped in behind it.
"Morning has broken," she said, grinning from ear to ear and walking all the way in, naked and gorgeous.
"What are you up to, you dirty girl?" I asked, even if it was pretty obvious what this was all about.
"You know how I like to have waffles for breakfast?" she asked, climbing on the bed and straddling my thighs. "Well, we don't have any waffles."
She never was strong on explanations.
"Am I supposed to be the replacement?"
"Got it in one, honey pie."
"Forgive me for asking, but since when did you start tying your breakfast down to the plate?"
"Quiet now, it's time to eat."
And with that, she squirted a jet of whipped cream straight into my mouth and kept on squirting until she'd left a trail of it from my face down to my belly button.
"Mmm, I'm so hungry," she smiled, bending down to lick the cream from my skin. I was still gloriously hard and my dick rubbed against her chest and neck as she licked me, but Sandy chose to ignore it for now. She ringed my nipples with cream and licked that all off, nuzzling each one and sucking hard enough to make me wince.
Again, she shot a load of cream into my mouth, but this time she followed it in with her tongue, licking it right out of my mouth, probing all around to get as much of it as she could, which only served to make my dick grow harder.
"Did you like that?" she asked, dismounting and crawling further down the bed, her eyes fixed on mine. I nodded my appreciation, lifting my head up off the pillow to watch her.
When she got to my dick, Sandy took the can of cream and circled the base of my shaft – good job I'd shaved myself clean the day before. Sandy used her lips to suck and nuzzle the cream into her mouth, her eyes locked on mine, my dick brushing against her nose, cheeks and chin as she circled me. She used her tongue to clean it all up, never once licking my cock, and when it was all gone she smothered my balls in cream.
If I hadn't been tied to the bed, I would have been balls deep in her mouth or pussy by now. I was aching to fuck her. I wanted to squeeze her tits together and slide my cock between them, fuck her mouth, her pussy, her tight ass. I was so turned on. But I could do nothing but lie there and suffer at the mercy of this wonderful, kinky, imaginative woman I loved.
Sandy sucked my balls one by one into her mouth, the cream smearing over her face and chin, my dick and my mind both desperate to be inside her somehow.
"Aw, you look like you want some of this…" and then she squirted a blob onto the tip of my cock and sat there, grinning.
"Oh, come on, stop teasing me already!"
Sandy tossed the can aside and reached for my shaft, rubbing my dick slowly, the cream remaining on top. She bent down, still keeping her eyes locked onto mine, and opened her mouth, taking the cream and my cock as far in as she could before closing her lips around my shaft and sucking it all firmly down her throat.
I'd like to say that I was a stud at this moment, and that I held off until I'd made her cum, but that would be a barefaced lie. As I was tied down watching her watching me, her mouth around my cock, the cream dissolving on my tip, her hand pumping my dick while the other cupped my balls, I lost all control and blasted my hot cum into her mouth.
Sandy made appreciative noises as I unloaded inside her warm mouth, like she was eating some fine food, squeezing my balls a little tighter and jerking me off just right, pumping at just the right moment to tease another shot of semen out of me.
When I'd finished and could gather my senses again, I looked up to see her grinning at me, sitting cross legged between my thighs, my dick still in her hand.
"Now, do I let you go or do I leave you here to get hard again?"
I'll let you guess at what she did next.
If you enjoy erotic fiction and would like to contribute some of your own, you can email it to fanfiction@metart.com. We don't promise to post it in full, but we will pick out the juiciest bits to share! To see more stories and true confessions, check out our free fiction site, MyErotica.com
June 12, 2017 - by: Michael
Erotic fiction inspired by Debora A in "Ethereal"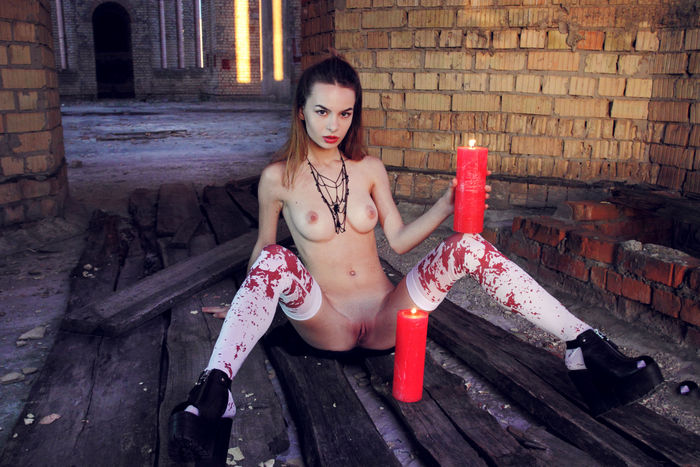 High up on the fifth floor of an abandoned warehouse, my sweet submissive, who I shall call Aria, sits on a futon I have rolled out over the broken floorboards. She is naked apart from hold-up stockings and a pair of heavy-duty shoes – so that she doesn't get splinters in her feet – and her silky smooth, pale skin glows in the light radiating from the numerous candles that surround her.
As I stand over Aria, she looks at me with trepidation. "Lie face down on the mattress!" I command.
I kneel down beside her, run a hand up her thigh and give her a quick, hard slap on the ass. Her body trembles as the red imprint of my hand appears on her left cheek, but she says nothing. I spank her on the other cheek, and her reaction is the same.
I roll her body over so that she can watch me strip naked, then I straddle her waist. I stare at her beautiful but emotionless face and smile. Leaning into her, I trail my tongue from her neck, up over her chin, and across her full, red lips. She sighs deeply.
"You know I don't want to hear a sound from you!" I say, harshly.
She shakes her head to indicate she understands.
I grab her beautiful breasts and squeeze them firmly, pinching the nipples until they stiffen. I can see from the look in her eyes that she derives pleasure from the modicum of pain my action generates.
As I reach for one of the lit candles, Aria's eyes widen in realization of what is going to happen next. I grin and say, "There's no need to look so frightened."
Her expression indicates that she doesn't believe me, so I tip the candle slightly, so that a dribble of hot wax drops onto one of my naked legs – staring her full in the face as I do so. While I do not flinch, Aria's expression remains fear-tinged. She starts to squirm nervously beneath me.
I climb off her and kneel between her long, spread-eagled legs.
"Are you ready?" I ask.
Being the ever-compliant submissive, Aria nods her head. I slowly tilt the candle, and as the hot wax hits the cold, tender flesh between her breasts and her navel, Aria's body lifts off the mattress – and she's incapable of preventing herself from moaning loudly.
"Not a sound!" I shout. "I told you, not a sound!"
Aria reactively reels from the volume of my voice, but quickly regains her posture, as the red wax trail hardens on her body.
I tilt the candle again, only this time I ensure that the hot wax spills onto Aria's beautiful breasts, and runs down her sides, to pool on the mattress. I take great joy in watching her body shudder uncontrollably, and, eager to test her pain threshold, I ask her to push her body upwards off the bed.
When Aria adopts the pose, I allow the molten wax to pool around the candle's wick, then tip the candle and hold it in a tilted position so that the flame continuously melts the wax and causes it to repeatedly splatter just above Aria's shaved pussy. The momentarily runny red liquid runs down over her hairless mound and hardens between her open legs.
She groans in pleasurable pain, but for once I don't reprimand her, as hearing her cries has aroused my cock to full stiffness.
I lean over Aria's finally still body, and run my tongue along the areas of wax-free flesh, lapping at the salty beads of sweat that coat it. Me being a lover of savory over sweet, Aria tastes so delicious it makes me smile and influences my next plan of action.
I straddle Aria, shuffle up her body, and drag the head of my swollen cock across her lips. My thighs tremble as Aria's mouth parts slightly, just enough for me to slip the tip of my cock inside it. The expression on her face suddenly transforms into one of delight, blowjobs being a much-practised forte of hers. I nudge forward slightly and her mouth opens wide enough to let my cock slip fully down her throat. With my ball sac resting on her chin, Aria tightens her lips around my shaft and starts to suck. Her lipstick smears as I slowly pump my cock in and out of her mouth, and she winks at me mischievously – because she knows that the roles have altered. No longer the recipient of the pain factor, she's now the granter of pleasure, even though she's supine beneath me.
The combination of dominating Aria and introducing her to the joys of hot wax combined with the sensations generated by her cock-sucking mouth causes my arousal level to go off the scale. As I feel my orgasm rising, I increase the speed of my thrusts, grab one of the candles and pour wax down my back. My entire body shudders as the hot liquid hits my skin, and I pull my cock out of Aria's mouth just in time to coat her breasts with thick ropes of cum, howling, "Yes! Yes! Yes!"
I collapse on top of Aria and she whispers in my ear, "Thank you, master."
"No," I reply. "Thank you, mistress."
Because, for me, a BDSM relationship is more fulfilling and fun if the boundaries between domination and submission are fucked with on a regular basis.
If you enjoy erotic fiction and would like to contribute some of your own, you can email it to fanfiction@metart.com. We don't promise to post it in full, but we will pick out the juiciest bits to share! To see more stories and true confessions, check out our free fiction site, MyErotica.com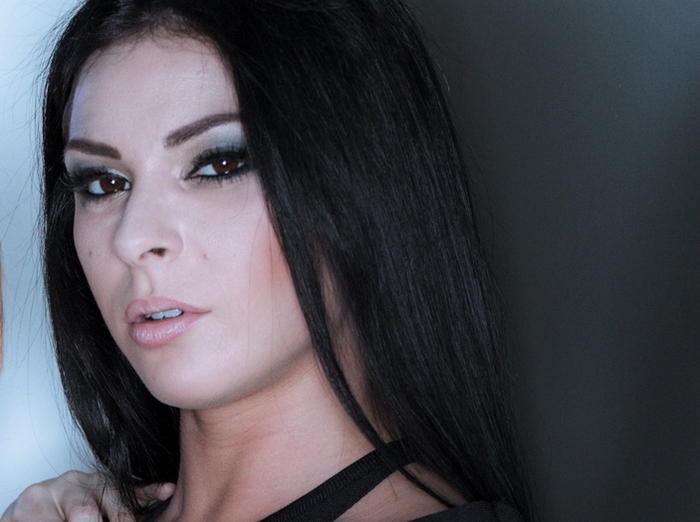 Bootylicious beauty Inna Innaki made her debut appearance on The Life Erotic in fine style this week. The 28-year-old Greek goddess stars in Alis Locanta's stunning movie "Body Building," her astonishing curves glistening with oil as she squats and grinds through her workout before slamming a big glass dildo into her soaked pussy.
The curvaceous star, who says her amazing ass is her favorite part of her body (ours too!) recently gave a revealing interview on the set of her movie shoot for our sister site Viv Thomas. You can see the whole video interview here but here are some highlights…
"I started making movies five or six years ago, with my boyfriend," reveals Inna. "We made a video at home, and we sent it to a company in Greece, just as a joke. They said we were good, so we made another one, and that's how it all started. I like everything about this job. It's strange, it's pleasure and it's work, and I really enjoy it. I don't like the acting part so much, because sometimes I forget what I have to say. I like the sex part best. I always watch my movies, but I am very critical. Sometimes I have an orgasm watching my movies because I love them so much!"
What does Inna look for in a partner? "For me a man has to have a good smile and I have to enjoy everything with him. I don't have a preference for tall, or big, or small. I first had sex with a girl in my personal life about three years ago. I like girls a lot. I have some friends, and sometimes we just get together and have sex. Girls are more sensual, kissing and touching, it's much nicer. My sexual fantasy is to have sex with ten girls all at the same time. Or maybe ten girls and one boy – that would be perfect. I've had a threesome, the boy fucked me and the girl licked me, and I had the best orgasm of my life."
How does she keep that incredible body in shape? "I go to the gym a lot – I go five times a week. I like my body and I want to feel good, so I really work at it. I like to go nude on the beach."
"I masturbate once a day," Inna reveals. "I don't think it's a lot, everybody has to do it, it's healthy. I like to use toys, but not so much putting them inside me, I prefer using vibrators on my clit."
I get recognized a lot when I go out in Greece, for a coffee or something, and my friends don't have a problem with that," Inna says. "I don't know what I want to do in the future, I never think about it. I just think about tomorrow: tomorrow I have to do this, and I have to go there, and that's it. Thank you for watching me, and I hope you enjoy my work!"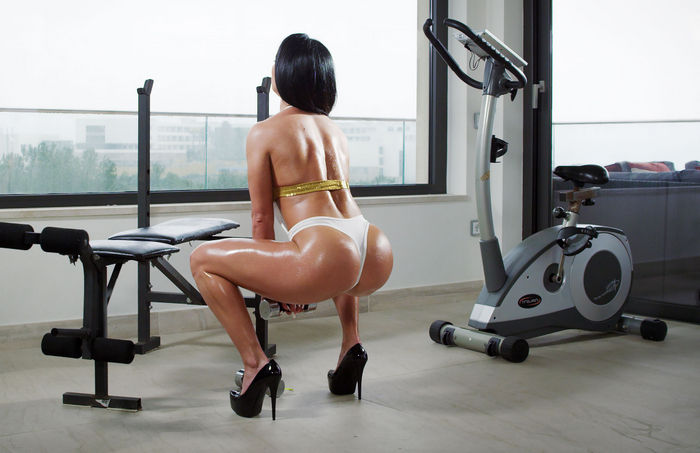 18 U.S.C. 2257 Record-Keeping Requirements Compliance Statement
Warning - This site contains adult material of a sexual nature - you must be of legal age in your area to view this material.
All materials on thelifeerotic.com, are copyright © 2019 thelifeerotic.com. All models were at least 18 years of age when photographed.
0.11.7