January 26, 2017 - by: Donna
Erotic fiction inspired by Fresh in "Twisted Love"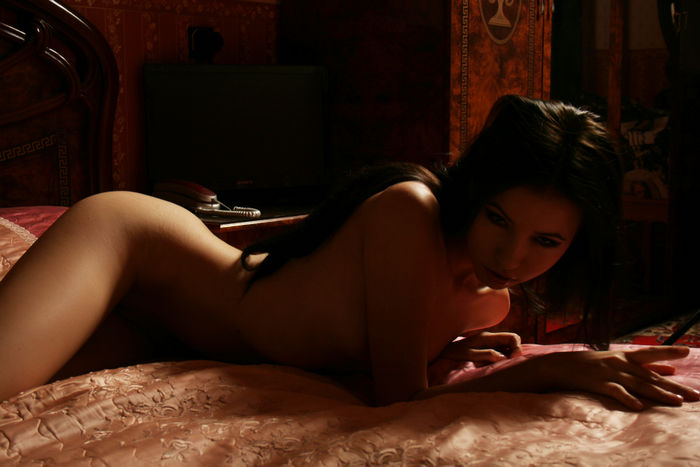 They say that it's those in positions of power who enjoy being subjugated the most, and that's certainly true of my husband. He's in the military, serving overseas, with the power of life and death in his hands every day.
We're a long way apart; there are thousands of miles between us, but we still enjoy a healthy sex life. I get fucked, and he gets to know about it – which is pretty much how it is when he's at home.
You see, my macho, gun-toting, ooh-rah husband is also my little bitch. I don't let him fuck me unless it's his birthday. The best he can ever hope for is to be allowed to watch me get balled by a big dicked stranger from inside the bedroom closet, where he jerks off onto an old pair of my panties and isn't allowed out until my lover has cum.
If you watched him leave the house in the mornings when he's home, you would never know that the burly uniformed bear had spent the night inside a closet with his dick wrapped in panties while some drunken barfly with hair down to his shoulders fucked his wife in the ass and shot his load over her face.
But that's how it is. He married me because I'm slutty and he's still with me because I treat him mean. We're happy, don't forget that. A lot of people seem to think that a cuckold relationship is built around the husband being too weak to stand up to his wife and the wife being too much of a straight up bitch to be with at all. But that, my friends, is way off the mark.
I don't treat Paul like dirt in any other part of our relationship. We are a typical couple in many respects, it's only in the bedroom that Paul becomes my little loser, and we both get off on it, so don't go thinking this is some kind of one-way street; traffic flows both ways here…
My last video was one of my finest since I picked up two sailors in a downtown bar and took them home to the marital bed. Ricardo and Kyle were both wiry young men; Ricardo was Hispanic and Kyle was white trash from Michigan, a city my husband has always hated.
Usually when I film myself getting fucked, the camera is static because it's on a tripod. But having two guys at once meant we could have some adventurous fun, and when they learned that my husband was in the military they were really up for it. Ricardo took the camera and started filming me on my knees blowing his buddy. He filmed us from the corner of the room until I started jerking Kyle off and sucking his balls, then Ricardo turned the camera on himself.
"Hey, homeboy! Check it out. Me and my buddy Kyle are gonna fuck your wife like she ain't never been fucked before," he said.
Pointing the camera at his arm, he focused on a tattoo of a ship and said, "You see that? That's my ship… That's right, you got yourself two sailors in your bedroom balling your wife! Watch me now while I go over there and ream her asshole."
He came up behind me and started slapping his hard cock on my ass. "Yeah, fuck my asshole, Ricardo," I called out. "Watch closely, Paul. You'll never get to fuck my ass, ever."
Kyle took hold of my head and pushed his dick into my mouth, keeping hold of me while he slowly eased himself in and out so I had my mouth full of cock when Ricardo pushed his dick up my ass.
"Oh man, your old lady got one tight ass, bro," Ricardo bragged. "I'm gonna have to spit on her to get this big dick of mine in there." He started spitting on my ass, rubbing it into my hole with his finger and reaching down to dip into my pussy, wiping his fingers on my butt cheeks.
"You ready for this, Paul?" Ricardo asked, pointing the camera at his face again. I felt his dick push into my asshole, his helmet forcing its way up my ass, and I moaned loudly, still with Kyle's cock between my lips. But I had to pull away from it because I needed more air.
"Oh, yeah! Fuck, that's right! Fill my ass with that big dick!" I cried out with Kyle's dick pressed up against my face. Once Ricardo was all the way in, I started rocking back and forth on his meat, bobbing my head over Kyle's cock with the same rhythm.
"Hey, Paul!" said Kyle. "Your old lady's a slut! Shame you can't enjoy her like this," and he took his dick out of my mouth and started slapping it on my face, while I laughed and licked it hungrily.
"Oh, fuck, man," groaned Ricardo. "She's so tight, I might cum in her ass right now," and he pulled out, cursing under his breath. "I know, what if we stretch her holes with these," and he panned the camera over the bed where I had a selection of dildos.
Choosing a glass one, Ricardo rubbed its length over my ass crack before sliding it up my wet pussy and then turned the camera back to the bed and reached for a big black rubber one. "This one's going in her ass."
But try as he might, whenever he started getting the tip of the black one up my ass, the glass one slid out of my pussy. So the guys told me to get on the bed on my back and Kyle took the camera. He kneeled over my face and filmed himself rubbing his cockhead against my tongue. Ricardo took the camera and Kyle moved back a little so the camera could see my face.
"You got a message for your hubby, slut wife?" asked Ricardo.
"You better not be jerking off to this, you little worm," I said, holding Kyle's dick and stroking it for him. "You're not allowed to touch that tiny cock of yours until these two sailors have cum, you understand?"
Then Ricardo took the black dildo while Kyle grabbed my feet and held them up in the air. The dildo filled my ass completely, it was so wide and unforgiving, and I couldn't help crying out when Ricardo added the glass one, fucking it hard and fast into my pussy.
He put the camera down so that it was between my knees and you could see both dildos in me. They kneeled each side of me and started slapping my face with their dicks and we were all laughing together until I grabbed hold of them both and started pumping at their pricks, taking them into my mouth one at a time as they took hold of a foot each.
I guess me being so slutty and knowing how to suck a cock properly was too much for them because Ricardo suddenly grabbed my chin and turned me to face him, stuffing his dick in my mouth and thrusting forward as he shot his load down my throat.
"Ah, yeah! Fuck!" he yelled, Kyle backing away from us just in time as he pulled out of my mouth and hot semen fired over my face and hair.
"You see this, Paul?" I said, looking down at the camera with my face covered in cum and Ricardo's cock in my hand, drops of semen oozing from it. "This is the nearest you'll ever get to cumming in my face. I only let real men fuck me and real men cum on me. What about you, Kyle? You wanna cum in my mouth?"
"Yeah, but not this time," he replied, grabbing the camera. "I'm gonna fuck your pussy then pull that fat dildo out of your ass and cum right inside your gaping hole."
Handing the camera to Ricardo again, Kyle pulled the glass dildo out of my pussy and made me get up on my hands and knees. Then he pushed his dick up my pussy and grabbed the camera back again. He focused right on his cock, thrusting it all the way in and back out again, and each time he shoved it up me, his waist would push on the black dildo like I was getting fucked in both holes at the same time, and damn did that get me off.
I was shouting all kinds of stuff, about how hard he was fucking me, how hard I was cumming, how much of a little wimp my husband was, everything! I came so hard my whole body was shaking. And my orgasm was way too much for Kyle as he suddenly pulled everything out of me, dick and dildo, groaning loudly. The video is amazing; my asshole is stretched wide and Kyle shoots his load right into my anus from about ten inches away, finishing off by stuffing his dick up my asshole for the last few pumps.
I collapsed onto the bed, drenched in sweat, my makeup a mess, and Ricardo took the camera and brought it right up close to my face before turning it on himself.
"You see that, Paul? That's how you fuck a woman. That was lesson one, but me and my boy Kyle are sailors, bro. We can go all night! There's plenty more of this coming your way."
I'm still waiting for a reply from Paul since I sent the film. I've told him I want a video back from him. He has to film himself the first time he watches the movie so I can be sure he doesn't touch himself until he's seen it all.
If you enjoy erotic fiction and would like to contribute some of your own, you can email it to fanfiction@metart.com. We don't promise to post it in full, but we will pick out the juiciest bits to share! To see more stories and true confessions, check out our free fiction site, MyErotica.com.
January 17, 2017 - by: Marie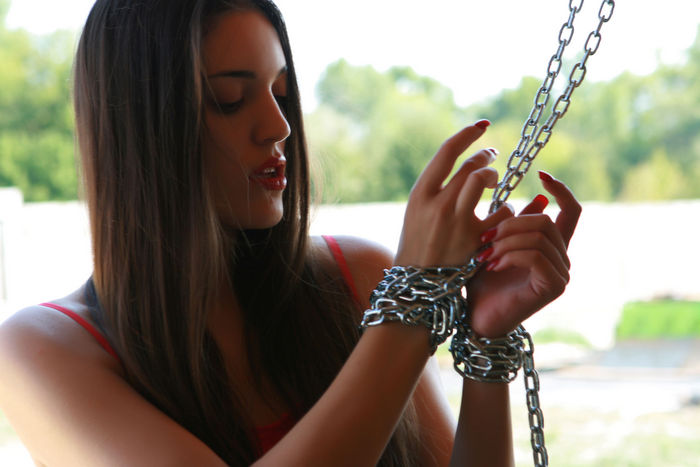 Bondage. You might think that women who are into bondage are submissive throughout the whole spectrum of their lives. That we behave in a subservient way in the workplace, the kitchen, and socially. Well, that's not strictly true. In fact, it's not true at all for me.
I am a very successful businesswoman, known for my boardroom shit kicking. Nobody messes with me without consequences, and I'm like that in my private life too. I'm both loud and forward socially, the center of attention. At home, I don't do the dishes, cook the meals, clean the house or take on any other domestic chore submissively. Like most people, if a job needs doing, I do it, but I do not allow anyone to boss me around.
But I do love to be bound. A shrink would probably tell you it's because I like to have so much control across all other aspects of my life that I enjoy the total loss of it that I only get when I'm chained to the bed and at the mercy of another's sexual desires. No doubt they'd be right, but I've never visited one and I have no desire to understand my own kinks. What's to understand? I get off on being chained up. It makes me cum harder than through regular sex, and that's all I need to know.
It's not just any bondage that gets me off, although I'm not against other forms of constraint – it's chains that I love. That feeling of cold hard metal against my warm skin gets my juices flowing way more than anything else.
Chains have a more 'dungeon' element to them than other forms of bondage. They certainly do in my house, because I have a special set up in the basement. I have all kinds of wooden furniture, some of it custom made, that is excellent for chaining someone up.
I have two favorites: one is a kind of wooden horse that I can lie face down on with my hands and feet chained to the legs, leaving me with my knees wide open and my ass, pussy and mouth at just the right height for a hard cock to force its way in.
The other is a hard wooden bed with wooden struts at each corner. The chains run through holes at the base of the struts and then up to the top, where they combine in a cross over the top of the bed and can be loosened or tightened with the use of one simple wheel.
When I'm lying on my back on the wooden bed, I begin to get wet the moment the chains are attached to my wrists and ankles. My husband chooses which of the holes to run the chains through, and this decides how high my feet and hands will be raised. If he runs a chain through the top holes, my arms and legs will be raised as high as they can go, and he can turn the wheel to pull me physically off the wooden bed and leave me hanging there, at his mercy.
The basement is cold all year around, and I feel the intense chill of the metal on my skin each time we go down there. It's almost always me that initiates these sessions. I tell my husband that he needs to take me downstairs right now and deal with me, and he knows that to argue with me or deny me that is dangerous; but as soon as the first chain is biting into my skin, I slip into submissive mode and he is free to do what he likes with me.
And what he likes to do is fuck me hard and rough.
He knows that I love the wooden bed, because the number of chains involved and the sound of them clanking as he turns the wheel really gets me hot. He'll chain me up and invariably set it up so that I am at the limit, the chains pulling on my arms and legs so hard that they're almost but not quite lifting me off the wood, the cold steel chilling my flesh, the individual links sometimes biting into my skin. This is when he gets to be a kinky son of a bitch. Once I'm chained up tight, he likes to use his fingers and whatever else he's got around the house on me.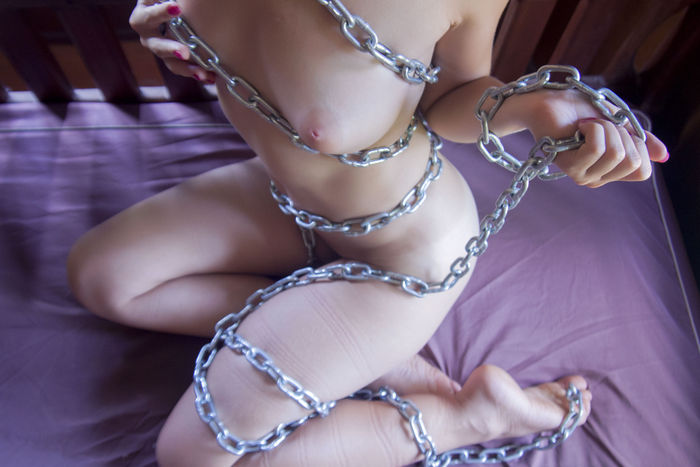 First, he'll run his fingers around the places where the chains bite, pulling on them to make it hurt just that little bit more; then he'll come around to my head and probe my mouth with his fingers, getting them wet with my saliva.
He takes his time, his fingers tracing my body's natural curves, until he is between my legs, playing with my cunt. When he begins to pinch my clitoris I know to expect that my pussy will soon be stretched open with a fist or a dildo or even a vegetable.
To have my pussy stretched wide open while cold steel chains are stretching my arms and legs wide is out of this world! I usually cum within minutes through this kind of play, and my husband keeps tormenting me, dominating me like this until I've cum at least twice before he gets his dick involved.
He teases me with his boner, rubbing it against my wrists and ankles, anywhere the steel chains are touching my skin, leaving it in my hand knowing I'm unable to do much more than grip it weakly.
When it seems like I'm sated and can be freed, that's when the horny little devil gets off. He'll leash my throat with a choke chain and walk me over to the horse, where he chains my leash to the floor through a steel ring and then shackles me face down over the horse. He shortens the chains just enough to make it uncomfortable, to keep the chains pulling on my limbs the whole time.
And then, when I'm absolutely at his mercy and unable to do anything but comply, he comes at me with his big prick.
You could ask him if he's a blowjob man or an anal sex devotee, or even just a straight up pussy fucking animal, but in the nine years we've been together, he's never showed any signs of favoritism – he fucks all my holes with equal gusto.
Sometimes, he'll chain me down and then immediately fuck my mouth, holding my hair to pull my face up, then jamming his prick into my mouth and fucking hard and fast to spray his hot cum down the back of my throat. Other times he'll give me no warning, just force his cock into my asshole and let me have it. And sometimes he fucks my cunt, slamming into me then pulling it all the way out, doing it again and again.
But there's one thing he almost always does at my request, and that's to cum on a special steel dildo and make me eat it while I'm face down on the horse, pushing the cold steel into my mouth until every last drop is gone.
It might sound extreme to some people, but vanilla sex has never been my thing, and I count myself lucky to have found someone whose preferences so perfectly align with mine. We enjoy looking at The Life Erotic together, and it's good to know there are other people out there who are interested in the same kind of things that turn us on.
If you have a fetish you'd like to write about or see featured in a photoshoot on The Life Erotic, we'd love to hear from you! Comment below or email fanfiction@metart.com.
January 09, 2017 - by: Kat
Erotic fiction inspired by Tracy Lindsay in "Honey"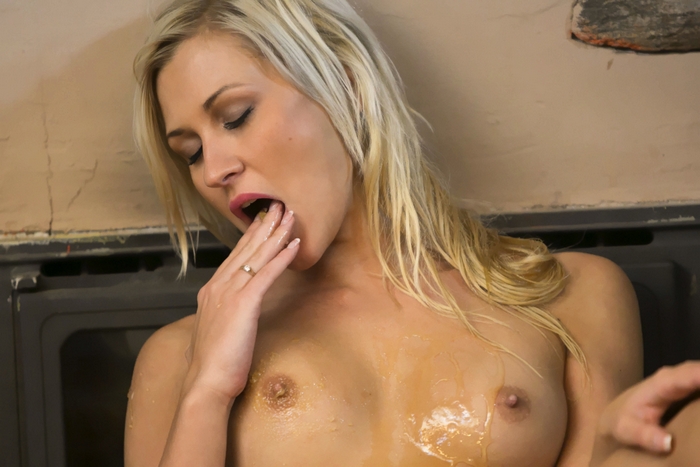 When I first came here, I thought it was hell on earth. It's a lot of land to till, back-breaking work from sunrise to sunset. I knew nothing about country living. I'd inherited this plot and wanted to save it, but after just a few days, I was ready to go back to the city. I didn't know anyone and there was nothing for miles around but two gas stations and a small bar in the middle of a winding road.
I decided to stop there for a drink to ease my nerves before I started packing. As soon as I walked in, I noticed that I was the only frowning face in the room. Everyone inside was having a great time playing pool and watching football. The high energy slowly transformed my mood.
I ordered double shots of whiskey from this beautiful bartender with an adorable southern drawl. She had to lean in to take my order since our voices were drowned out by the loud music. I didn't mind. It gave me a clear view of her enticing figure. She was the sexiest woman I'd ever laid eyes on; blonde hair, athletic body, long legs, and a stunning bottom. She didn't look much like a country girl. Her all-white outfit accentuated her curves, like she was poured from the neck down in milk. After my first look at her I completely forgot what I was upset about.
Her gaze was magnetic. It was impossible to look at her without feeling breathless and lovesick. I needed some air. I stepped outside for a smoke, letting the night breeze cool me down. My mind raced with lustful thoughts. I blushed when she joined me, wondering if she could read my mind.
"Hey, do you have a light?" she asked with a smile. I lit her cigarette for her and smiled back. Her mere presence made my heart race.
"You're not from around here are you?" she asked, her southern accent thrilling me.
"No," I replied. "I don't think I could ever get used to this place."
"I felt that way when I first moved here," she said. "You have to give this town a chance. Trust me, it grows on you."
"What is there to do here?" I asked.
"Besides drink?" she laughed. "Nothing, but this place is famous for its honey."
"Really?" I asked. "I've never tried the local honey... I haven't had honey in a while actually."
Suddenly, she leaned in very close to my ear. "Well, you're gonna have to taste it sometime," she whispered flirtatiously.
This girl had a powerful sexual aura that radiated from her. It was hard to resist. She gave me her address and invited me over the following night. I was very much looking forward to her company.
The next evening, I showed up at her cabin, just a few miles from the bar. I went to the door and saw a note. It read, "Door's open. Come on in."
I opened the door and saw her on the floor by the fire. Her naked body was laid bare on a soft fur blanket, glasses of honey all around her. I gazed at her in awe. Her sparkling brown eyes fixed on mine. She picked one of the glasses up and tilted it to her chest. I watched the slow drip of amber slowly trickling down her body. I was so spellbound, I could hardly breathe.
"Take your clothes off and come here," she commanded.
I undressed and knelt beside her. She put the glass down and straightened her posture, letting me admire her form. I leaned in and slowly licked the honey off her chest, trailed my tongue down across her nipples, and sucked them softly. The taste of her flesh mixed with the wet sticky syrup was heavenly. She poured some more honey down her stomach, where it dribbled down the dips of her abs, and dripped slowly to her pussy.
I lay down, inched my head under her, and opened my mouth. Drops of honey trickled to my tongue and down my throat. She dipped down on my face, letting me taste her. The honey was even sweeter, mixed with her wetness. I lapped and sucked, taking every drop of the ambrosia. She wound her hips around my face, using my mouth as her personal toy. I could feel her clit swelling, her lips dripping, her harmonious moans rising in volume. Suddenly, her body tensed. I whirled my tongue around her flesh rapidly until she came all over my lips. I kissed her pussy softly, as the last beats of her orgasm subsided.
By now, her entire body was wet and sticky. She walked me to her shower room and handed me a loofah and some body wash. I took my time lathering her body from head to toe. I made sure every part of her was clean. Then, she pinned me to the shower wall. Her breasts pressed against mine. Her soft lips suctioned my neck, while her fingers reached below. She squeezed her fingers inside me and thrust up and down, her fingers pressing my G-spot perfectly.
I wrapped my hands around her waist as she fucked me harder. The hot water streamed down between us, adding to my pleasure. I lost control and started trembling and moaning until I came powerfully on her hand. I grabbed her face and kissed her deeply while her fingers slowly thrust inside me, pressing every last wave of my climax out.
I surrendered to her every whim for the rest of the evening, thankful that I hadn't given up on an unfamiliar town. If I hadn't gone to that bar or met this gorgeous goddess, I would have been gone by the morning. Later I learned that everyone who lived in this small town had a similar story, finding everything they never knew they wanted in the least likely place. I felt fortunate to be among them, and to belong somewhere I never thought would feel like home. If I ever do decide to move on, the sweet taste of honey will always bring me back.
If you enjoy erotic fiction and would like to contribute some of your own, you can email it to fanfiction@metart.com. We don't promise to post it in full, but we will pick out the juiciest bits to share! To see more stories and true confessions, check out our free fiction site, MyErotica.com.
18 U.S.C. 2257 Record-Keeping Requirements Compliance Statement
Warning - This site contains adult material of a sexual nature - you must be of legal age in your area to view this material.
All materials on thelifeerotic.com, are copyright © 2019 thelifeerotic.com. All models were at least 18 years of age when photographed.
0.11.7