December 19, 2016 - by: Kat
Erotic fiction inspired by "Indifference" starring Sade Mare and Susie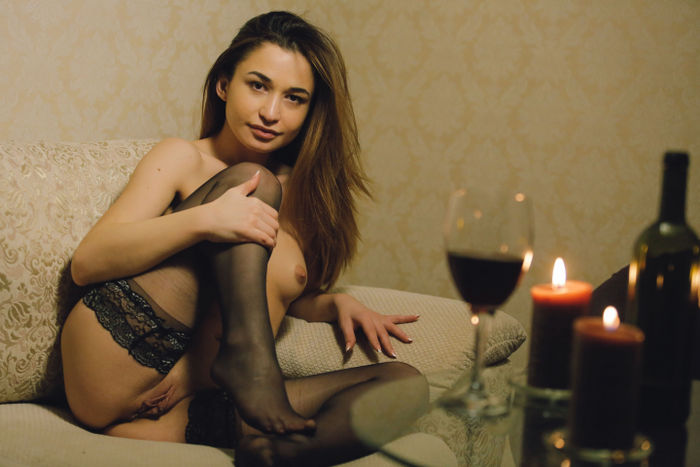 I sit here sipping my drink, full of disdain and no faith or hope for this wretched evening. I watch you blankly. I wonder why you are still here. This awkward silence between us has surpassed its allotted time. I glance and sip. Glance and sip.
You stare at me, wondering if I am going to make a move. I am distant and uncertain. I don't want anything from you. Now, you choose this very moment to change my mind.
"Go ahead," I scoff to myself. "Try and change my mind if you can." I bet everything I have I won't move.
I see you sipping your wine silently across the room. The atmosphere is formidable and unforgiving. You already know there is nothing between us, nothing to save. We have finished before we started. Still, I watch. I brush off any hint of interest with the coldest expressions I can display. As I watch, you try to see right through me.
"Good luck," I think. You will need it.
I sip my wine again. My glass is half empty; you are full of yourself. I stare at you silently, unfettered in your salacious glare. You might as well be alone. I might as well not be here. Let's see what you do.
You bite your lip lustfully. You gape shamelessly at me, nudging your dress down your supple shoulders. Your hands caress your body as if you are telling me what you want my hands to do to you. You kneel and caress my thigh, trying to get my attention. I don't want it. I don't want you! I brush your hand away every time you attempt to touch me.
You grow desperate. I see your eyes fixed on mine. I look away. My expression is bored and cruel. You can't impress me. I don't care that you're throwing yourself at my feet, begging for my affection.
I see you are enticed by my indifference. The more I ignore you, the more aroused you get. I am confused, the only reaction I have shown you all night. You kick your heels off and slide off your stockings. Your smooth thighs glisten in the candlelight as you bend over the couch. I see your hands peek between your thighs. You imitate my touch, from the last time I grabbed you there. I sit shaking my head in disapproval. You wait. You look. I look back. My brow furrows in disapproval.
Your fingers move in and out, slowly sliding and slowly dipping. They circle around and around over your sodden flesh. I can't stand it. I am supposed to be your hand. I am so close to you, but I am not even in the room. My mind is across the world, looking to a future I can't find. Your attempts to switch my mood are a waste of time.
I finish the rest of my wine, unaffected. I rise out my chair and walk away. You grab my wrist to stop me.
"What?" I snap. "What the fuck do you want from me?" You pout and look deep in my eyes, trying to thaw my cold expression.
"I want you." There it is. You said it, but I no longer have respect for such a response. It doesn't even phase me, yet I don't leave.
I lean against the wall. You pin my body against it. Your flesh touches mine. Your face is close to my lips. You kiss me. Even when I turn away, you hold my head in place. I kiss you back. You exhale in relief. It's like you won a silent wager in your head. I look at you and watch your expression.
"I can't do this any more," I whisper.
"That's what you said last time," you whisper back, running your tongue softly over my lips.
"I don't want you!" I snap; but I am unsure.
Your hands reach between my thighs and suddenly your fingers are inside me. You lift your soaked fingers to your mouth and suck off my juices. Your eyes melt like it's a delectable treat.
"Your body is saying otherwise," you smile.
You're right! My hardened core is melting to your touch. The next thing I know, I am sitting back down on the chair, my panties stuffed in my mouth, my legs spread wide over the armrests. Your arms wrap around my thighs as you lick up and down slowly. The soaked folds of my pussy spread open, inviting your tongue to slide deeper. I bite down on the balled-up lace in my mouth. Even now that I have given in, I am still fighting. I don't want to come. More so, I don't want you to make me come. But your succulent mouth and slippery tongue are doing everything right to get me there.
I sit as still as I can with my eyes shut, my pleasure heightening with every lick. Any sudden movement from my hips will make me explode. Still, I fight it. My breathing is heavy. I can feel my heartbeat rising to my throat. Then, you shove three fingers inside me, the sudden pressing making my stomach flex. I am done for! My first instinct is to grab your head and fuck your face until I let out every throb, your lips wrapped tight around my clit. I scream out as I come all over your face. I collapse back, panting heavily. I spit my panties out as you straddle my waist.
I push you off me. I grab some duct tape and a vibrator from my drawer. I strap it to your pussy and wind the tape tightly around. I tape your wrists to the armrests but leave your legs free to move. Then, I turn the toy on, pour myself another glass of wine, and leave you there. Your moans reverberate throughout the house. I am now upstairs, smiling…waiting.
If you enjoy erotic fiction and would like to contribute some of your own, you can email it to fanfiction@metart.com. We don't promise to post it in full, but we will pick out the juiciest bits to share! To see more stories and true confessions, check out our free fiction site, MyErotica.com.
December 12, 2016 - by: Lex
An erotic fantasy inspired by Charles Lakante's "Radio Ghost" starring Paula Shy, and "Introspection" starring Delphine.
This is a continuation from episode four, which was posted on this blog on November 28th 2016. The story so far: Paula feels a presence in the house with her, hungry to seduce her. Its touch becomes tangible as it guides her to masturbate, tormenting her with the loss of control until it finally allows her to orgasm. Paula is approached by a beautiful blonde, Delphine; Paula uses Delphine roughly, but the mysterious presence is angered by the way Paula has taken control, and restrains her.
The story continues…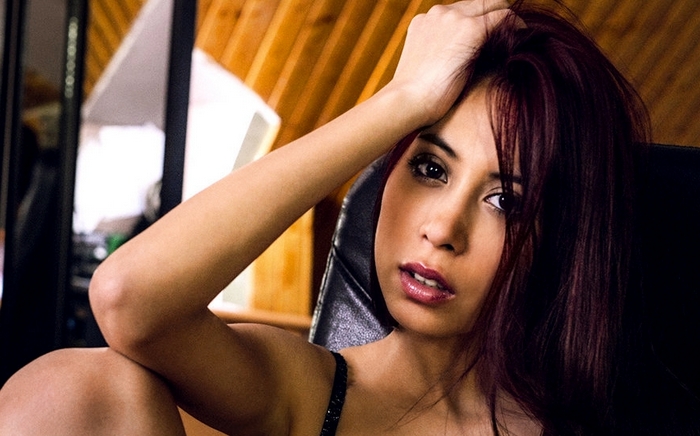 The ropes held Paula firmly immobilized, her hand pressed up between Delphine's legs. She could feel Delphine's hole throb and her pussy juices spreading over her fingers continually like a leaking hose, as she caressed the tip of her rock hard clitoris.
The hunger of the mysterious presence was once again devouring Paula – tasting her frustration, lapping up her desire for Delphine, learning what Paula craved to do to her. It loved watching them; observing and admiring Paula in all her perfection struggling to unleash her own wild lust. It wanted her to understand that as much as Delphine was Paula's toy, Paula belonged to it!
Now she was at its mercy once again; at the mercy of its infinite lust and predatory hunger. Paula's pussy was dripping creamy juices uncontrollably just as Delphine's musk stained her hand.
More ropes fell from the ceiling, twitching sporadically as if an invisible will was carefully preparing them. They wrapped themselves firmly around Delphine's wrists, then gently pulled her arms up over her head and out wide like an angel's wings. Two more ropes crawled like snakes across the floor, wrapping tight around Delphine's ankles and pulling her legs apart, holding her thighs open – her pussy perfectly accessible.
Watching the ropes expose Delphine's body in such a vulnerable way drove Paula crazy. Her pussy ached with frustration. Her thighs tensed and trembled as her pussy hole throbbed, begging to get fucked hard. But that wasn't what it had in mind for her and she knew it.
Suddenly Paula's body came under its command. It pushed her face towards Delphine's armpit, pulling her hips back, forcing her ass up. She could smell the heat of Delphine's sexual excitement rising from her soft skin. Paula knew its gaze was upon her, fixated on her exposed asshole.
The air around them stirred in a lust drenched dance, a million eyes focused on their bodies; but that wasn't all. Suddenly it grabbed Paula's ass cheeks, opening and spreading them wide, revealing her sweet and juicy asshole. Something pressed against her ring with a firm determination, pressing again, and harder each time. Paula's asshole resisted the pressure, but although it wasn't terribly strong, it was incredibly persistent. It slowly eased its way inside her ass.
The amazing sensation of getting her ass penetrated and violated drove Paula crazy like never before. Whatever that thing was, it was now inside her ass and fucking her slowly, going deeper and deeper with each stroke. Paula's ass wasn't resisting anymore, it was completely open, filled and utterly pleasured!
It was the size of a long middle finger. Very, very long. Paula could feel it driving deeper into her, stopping short before completely vanishing inside of her. Her asshole gaped open. It was inside her, controlling her body, tasting and devouring her own pleasure, making her feel its hunger.
Was this a lesson? A reward? Or a punishment?
Paula could feel herself on the brink of a huge orgasm. Having her ass fucked drove her lust out of control, but somehow it was preventing her from cumming, holding her at bay. She was allowed to have pleasure, but she wasn't allowed to cum!
That same mysterious, invisible force that penetrated her ass was pushing Paula's lust beyond the edge, ready to be unleashed furiously on Delphine for its own pleasure. Paula couldn't stop herself from sticking her tongue right under Delphine's salty armpit to lick it hard, passing her tongue over Delphine's sexy skin, tasting her gorgeous, angelic, aphrodisiac flavor. Each lick sent intense chills of pleasure through Delphine's body, from her head to her toes, making her squirm and quiver.
Paula's ass was getting fucked over and over by that invisible long finger; a slow and perfectly paced thrust. It was driving her wild.
Paula could feel Delphine reaching the brink of orgasm, her pussy dripping like a waterfall. Paula knew she couldn't satisfy her own hunger and lust, not this time at least, for the punishment could be terrible for her. She was at its complete mercy, with her ass fucked and filled, sharing her pleasure and playing for its amusement. She was scared of what could happen if she lost control of herself; and this was making her incredibly excited!
Another warm shiver of sexual excitement washed down Paula's spine. Delphine was ready for more. Paula's hand suddenly moved by itself, her index and middle fingers slowly pushing between Delphine's meaty labia, crossing the edge of her luscious, throbbing hole to fuck deeper and deeper until they reached her pulsing G-spot.
Paula finger fucked Delphine's pussy hard, her hand acting on its own, fulfilling its desires and obeying its will. Her fingers arched, dipping in and out of Delphine's pussy fast and deep, but in such a way that the fingertips never left the G-spot, massaging it constantly with a sustained rhythm.
Delphine was trembling and convulsing uncontrollably, her perfect body being stimulated by Paula's tongue in her armpit and the fingers inside her pussy. The pleasure was so intense that Delphine was teetering on the edge of a huge orgasmic explosion. Paula felt Delphine's pussy tighten around her fingers. Clear pussy juice dripped down her thighs.
Delphine was almost there.
Suddenly, Paula's fingers stopped moving. Again, her body moved without her control, making her drop to her knees, her face in front of Delphine's dripping sex. She was held there while the presence studied them both at leisure. It wanted her to dive into that ocean, but it wanted to let her feel who was in control first. Paula was learning this lesson the hard way, with no permission to cum at all.
Paula's face lifted to Delphine's navel, her fingers still pressed against Delphine's G-spot. She moved forward, sticking her tongue right inside Delphine's navel, to fuck it like a pussy! Delphine's whole body began to convulse as she moaned loudly, almost screaming. Her thighs trembled; she was clearly incapable of holding back any more...
To be continued…
If you enjoy erotic fiction and would like to contribute some of your own, you can email it to fanfiction@metart.com. We don't promise to post it in full, but we will pick out the juiciest bits to share! To see more stories and true confessions, check out our free fiction site, MyErotica.com.
December 05, 2016 - by: Rose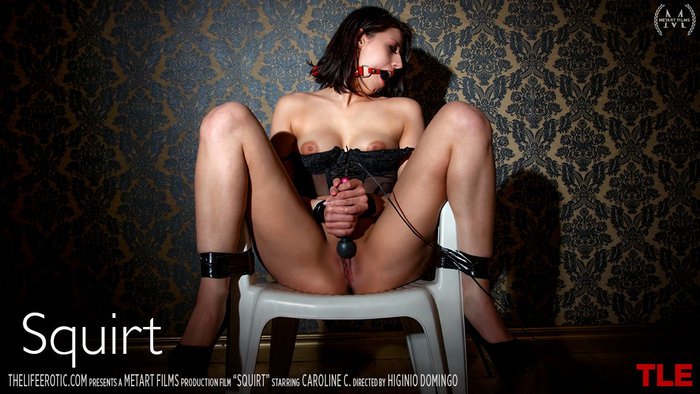 As 2016 draws to a close, it's the perfect time to reflect on the movies that floated your boat – and discover which kinks you'd like to see explored further in 2017. The Life Erotic took a walk on the wild side throughout the year, trying out some naughty fun of various flavors with exciting and arousing results. If you have a favored fetish or edgy turn-on, chances are you found it here!
So I'd love to know, what did you particularly enjoy seeing in 2016? Here are a few of my personal top picks to jog your memory…
Toys: sexy superstar Lorena B went kinkier than we've ever seen her before in "Jewels" with a butt plug and labia clamp. Bad girl Areana Fox improvised with a bottle in her tight pussy and tighter ass in "Champagne 2;" and Kira Zen took it to another level with her vibrating wand in "Orgasm Obsession."
Peeing: you asked for more, TLE listened! Wet play took a decidedly kinky turn with Mina K in "My Reflection" as she squatted to spray over a mirror before indulging in some panty stuffing and intense masturbation; while dirty blonde Adelina White's fountain of piss in "Pause 2" was a watersport fan's must-see. Two highlights of a wet and sticky year!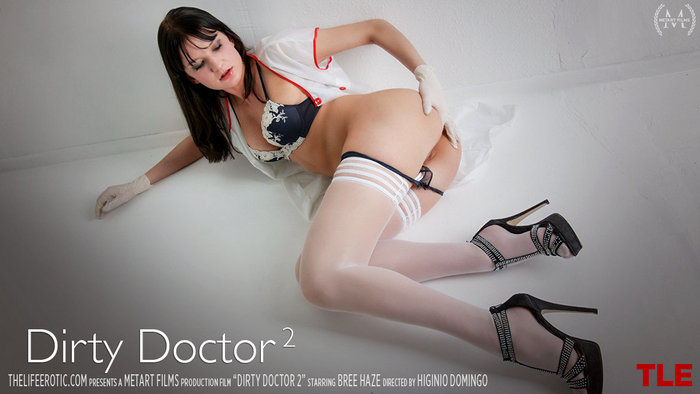 Bondage: so many amazing movies to choose from here! I'd single out Caroline C in "Squirt" – things got very juicy as the ballgag, bound ankles and vibrator pushed this busty brunette over the edge.
Sex games: spanking fun with Laura A and Ultima A in "Domination" and anal play from fetish queen extraordinaire Bree Haze in "Dirty Doctor 2" were both real attention grabbers.
My movie of the year? A tough decision, but it really has to be Emily J in "Scarecrow III." Emily is sensational in every movie she makes as the compelling muse of maverick auteur Paul Black – the intensity with which she chases her orgasms has to be witnessed to be believed. But seeing her suck and fuck her living-doll sex toy in Black's darkly comic masterpiece was the pinnacle of perfection. It also brought the year full circle for Emily, starting as it did with her giving a shockingly raw and visceral blowjob to an unnamed john in "Whore 2."
So how about you? What did you like, and what do you want to see at TLE in 2017?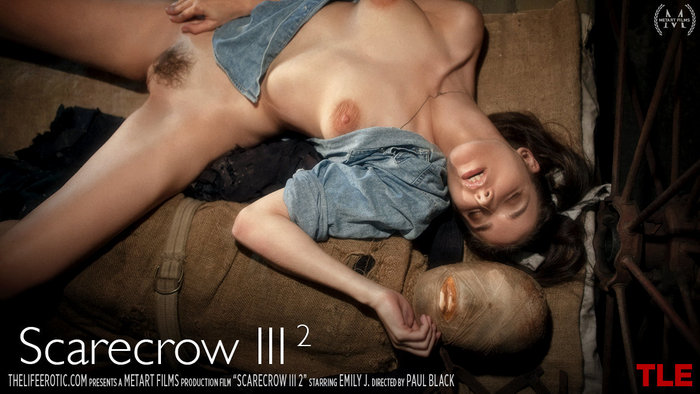 18 U.S.C. 2257 Record-Keeping Requirements Compliance Statement
Warning - This site contains adult material of a sexual nature - you must be of legal age in your area to view this material.
All materials on thelifeerotic.com, are copyright © 2019 thelifeerotic.com. All models were at least 18 years of age when photographed.
0.11.7