April 28, 2015 - by: Rose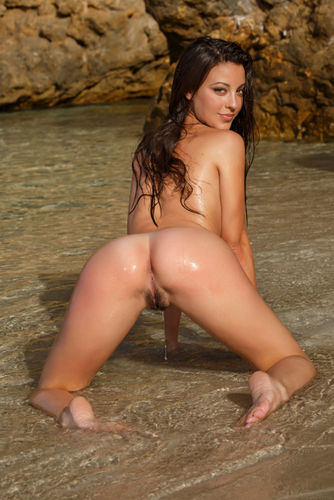 In a world of beautiful girls, Lorena B is something special. The sexy Spanish sweetheart is not only spectacularly beautiful, with that radiant smile and irresistible body, but has an energy and charisma that makes every one of her scenes memorable.
Lorena is one of the most popular girls on the MetArt Network. Not only has she clocked up a staggering 73 appearances on MetArt itself, but she's also starred in some superb girl-girl movies on our sister sites SexArt and VivThomas. This month, she made an attention-grabbing return to VivThomas with the lead role in 'After Hours,' which showed a whole new side to her character. Never a girl to hold back, she now seems to tear into her partners with a hunger and urgency that is incredibly arousing to watch – and yet, her sweet and tender nature is still in evidence too.
I was lucky enough to get to interview Lorena for the Viv Thomas blog, and as she's adored here on TLE too despite only having made a couple of appearances, I thought you folks might enjoy reading it…
Lorena, can you tell us a little about yourself?
I am 28 years old, I grew up in Spain and Barcelona is my new hometown. I enjoy charcoal drawing, sports in general, and to spend time simply on my own. I have fun spending time in tune with nature. I also like to spend too many hours searching for and listening to music. It's almost all I do when I grab my computer.
Do you have any favorite TV show? Books? Music?
I never watch TV… On my computer I love to watch documentaries, sports, old music clips, comedians like Bill Hicks, Louis C.K, Rik Mayall and Ade Edmondson, Jim Carrey… Or even cartoons. I have many favourite books, two of them are The Book of Children by Osho, and The Monk Who Sold His Ferrari by Robin S. Sharma. Loving music, I do have a wide variety on my playlist but I got stuck in the pre-2000s! Classical, R&B, Rap, Heavy, Disco, Industrial, Soul, Rock, sometimes popular music… A few artists I like: A Perfect Circle, Staind, Rob Dougan, Genesis, Billy Paul, Prodigy, Faithless, Elliott Smith, Nick Drake, Can, Tindersticks, Alexander O'Neal, The Sisters of Mercy, Pantera, Bach, Vivaldi…
Your fans love to hear you speaking in your sexy Spanish accent. Is there an accent that really turns you on?
I do smile when I hear others' accents, and find many languages beautiful to hear. I find the deepness of a voice or the way a person might talk more attractive than the accent itself.
What is your favourite thing about your appearance?
In general I embrace my body as it is. If I have to pick one thing in particular, the first that comes to mind is my small chest. Most of the time it only gets attention when it is truly needed! (Laughing)
What is the difference between stills photography and making movies, for you?
In the beginning there was no difference. It was all about how to learn to stay relaxed during the shoots and movies. To simply stay still and stare at the camera was not simple or natural to me. I do tend to move too much and too fast and some photographers still struggle a little bit with me in that respect! Once I began to feel more comfortable in front of the camera, the differences started to depend more on the kind of photographer or videographer. What they look for, their way of working…
What do you enjoy most about making movies?
I enjoy sharing a passionate and fun experience with my partners and having a good connection with the team in general. I also enjoy seeing how a scene is built and the progress of it.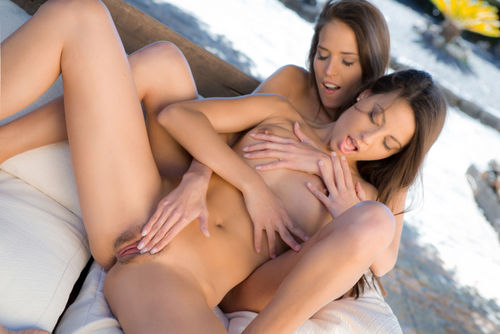 What made you decide to start making girl/girl movies?
I was willing to try something new after gradually changing how I felt about it. One day I got a call asking if I would replace a model that didn't show up at the location. I agreed after talking and thinking about it for while.
Did you have sex with a girl in your personal life before you did it in a movie?
No, I did not and I still have not done it in my personal life. My first time was with Miela A, and then right after with Mia Knox for SexArt. It was a very strange feeling and I was completely lost about how to touch a woman. Knowing the cameras were rolling didn't make it any easier!
Which is your favourite of the movies you have shot for the MetArt Network, and why?
'Be Mine' with Tess B, for SexArt. It was the first girl on girl movie I made with Don Caravaggio and his team. I felt it was intense, natural, flowed well, and there was a good vibe behind the work.
Who was your favourite partner?
I would like to mention more than one: Brandy A, Tracy Lindsay, Eve Angel, Mia Knox, Dido, and Tess B.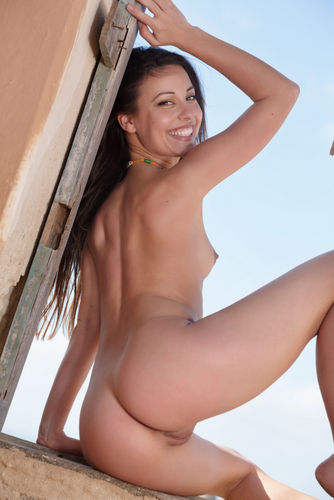 You seem like a very happy person, always smiling and laughing!
I do try to feel my best in whatever I do. Smiling, laughing… Sometimes it comes naturally, other times it helps me to feel more relaxed. I can smile for the camera, yet it starts for myself. It raises my energy up.
Do you feel competition or rivalry in this business?
No. Everyone is different. Comparison, rivalry, popularity… I prefer to let the ego sleep while trying to enjoy what I do, as long the team and members are pleased with the work.
Are you a dominant or submissive person?
I like passion, to play…and yet I do like it when it is 50/50. I am pleased to give and receive.
Do you have a boyfriend or girlfriend?
No, I am happily single.
Please tell us about the recent shoot with Guy Ranieri Sblattero, the new director for Viv Thomas.
The shoot was in Barcelona and the women were all nice to meet and work with.
It was also my first work after almost one year not being involved with lesbian movies, and it put me back on track with how hardworking Guy's team is! I did not see any of his movies for Viv Thomas before, yet it was easy to see he was looking for something different and dynamic. I felt very good around him and the way he directed us during every scene.
Do you have Twitter, Facebook?
I never used Twitter, honestly I have no idea how it works. For now I am no longer active on Facebook, the only platform I have ever used.
Is there anything else you would like to tell your fans?
Yes…To all the members of the MetArt Network: desertrat, mep1… Others not mentioned here, and those who might not be active on the comments section so I don't know their names – thank you very much for all your support!
Latest Comments
There are no recent comments
18 U.S.C. 2257 Record-Keeping Requirements Compliance Statement.

Warning - This site contains adult material of a sexual nature - you must be of legal age in your area to view this material.
All materials on thelifeerotic.com, are copyright © 2019 thelifeerotic.com. All models were at least 18 years of age when photographed.
0.24.0 41af34